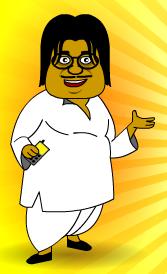 'Dada' – the 'dhoti kurta' clad, long-haired, easy going, happy-go-lucky character is IDEA Cellular's latest innovation in the Digital space!
After an good consumer response to Idea Mumbai Indians campaign, comes IDEA's latest offering in digital space in the form of a virtual character called 'Dada'. Dada's apparent speech impediment, which either comes naturally or is caused by the ever-present beetle nut leaf in his mouth, instantly connects with audience from the East. apparent resemblance with a person hailing from East India is a deliberate attempt to create visibility for IDEA amongst the youth community on the internet, as the company rapidly expands its operations in the eastern parts of the country.

The viral film revolves around theno-win situation 'Dada' is faced with in Orissa, and the subsequent transformation that he undergoes – thanks to an 'idea' that he gets! IDEA has created a portal www.dadakiduvidha.com which will carry interesting stories about Dada.
In the first film, Dada plays a Tour Guide who is not well aware about history, current affairs, and general information about the city of Puri in Orissa, but makes up for it with his affable nature.