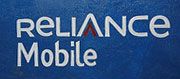 Reliance Mobile has tied-up with Aaj Tak to launch MMS News Subscription Service to its subscribers. According to this tie-up, a Reliance user will be able to access news related to National, International, Business, Sports, Entertainment happenings on their handset. The news alerts will be in video format sent to the subscriber as MMS clips. Reliance Mobile will send these MMS alerts twice everyday.
Reliance Mobile is offering the Aaj Tak MMS News Alert service on a 30-day subscription module. Customers wishing to avail the service can subscribe to it for Rs 30/month. Reliance Mobile is offering this service to both its prepaid as well as post-paid customers across both CDMA and GSM networks.

Commenting on the new service, Mr Krishna Durba, Head – VAS, Reliance Communications said, "We have seen large demand for news on the move. Subscribers want to be alerted on the breaking news. This service will ensure excellent news coverage with multimedia pictures & video clips. "
In case of Post-paid Users, the subscription charges will be added to mobile user's monthly bills. For Prepaid Users, the subscription charges will be deducted immediately.
Reliance customers can subscribe to this service by sending a SMS "MSub N" to 52424.