Vodafone Offer : Get discount on "The Lost Symbol"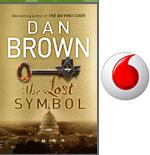 Loved reading The Da Vinci Code? Then you will surely gonna enjoy Dan Brown's New Book – "The Lost Symbol". If you are a Vodafone customer then you can place an order for the book from Vodafone M–Shop and get 33% off. Just call 53333 (toll free) from your Vodafone mobile phone and book your copy for Rs 465 with no extra shipping costs. What´s more – you´ll get a free DVD of the movie based on Dan Brown´s most popular book, ´The Da Vinci Code´.
Dan Brown is a popular American author of thriller fiction. His first two books, ´Digital Fortress´ & ´Deception Point´, pointed to just another new author with decent writing skills. But ´The Da Vinci Code´, the immensely popular sequel to ´Angels and Demons´, made critics take a note of Dan´s ability to weave gripping stories. The book has sold over 80 million copies worldwide and is one of the highest selling books of all times.
Excerpt From "The Lost Symbol"
To live in the world without becoming aware of the meaning of the world is like wandering about in a great library without touching the books.
—The Secret Teachings of All Ages

Fact:

In 1991, a document was locked in the safe of the director of the CIA. The document is still there today. Its cryptic text includes references to an ancient portal and an unknown location underground. The document also contains the phrase "It's buried out there somewhere."

All organizations in this novel exist, including the Freemasons, the Invisible College, the Office of Security, the SMSC, and the Institute of Noetic Sciences.

All rituals, science, artwork, and monuments in this novel are real.

Prologue
House of the Temple