Reliance Mobile introduces Job Search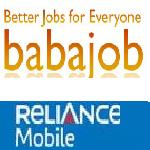 Reliance Mobile has launched a Job service on R-World, its VAS platform. The uniqueness of this job search service is that instead of focusing on white-collar employment seekers, Reliance Mobile is focussed on the hugely potential yet vastly untapped informal jobs market. The company has tied-up with Babajob.com (Earlier Idea also launched similar service). Reliance Mobile's job search service can be accessed through R-World.

Reliance Mobile's job service offers Employers an easy access to reachable candidates and allows them to reach job seekers who often lack web access and hence better job opportunities. The advantages that Reliance Mobile's job service offers to job seekers is access to better jobs that offer considerably higher remuneration closer to home and better timings. Additionally, it offers rural users information about jobs in their districts as well as often higher paying jobs in nearby cities.

Through this service, Reliance Mobile is targeting a vast base of job seekers who are not computer literate as well as not qualified for jobs that get advertised on well-known job portals.  These are typically low ARPU customers who would see rational sense to pay for mobile services that can improve their livelihoods. Babajob had undertaken a pilot project in Karnataka. The pilot project resulted in 2.4% conversions from over 100,000 low-ARPU users.
Currently, the informal job market comprises of over 138 million jobs seekers in India looking for blue-collar or odd jobs. It is expected to grow to over 220 million seekers by 2012. The informal job search through mobile market size is expected to touch Rs 6500 crore by 2012. Reliance Mobile is targeting nearly 12% share of this market.

Commenting on the new service, Mr Krishna Durbha, Head – VAS, Reliance Communications said, "This is is a scalable, replicable solution which will connect computer/voice-based employers to job-seekers with mobile phones. We see major usage of this service in Tier 3 and rural locations. This service will enable informal job seekers to find lucrative employment opportunities at a click of a single button. We are currently launching this job search service in 5 languages – Hindi, Telugu, Kannada, Tamil & English. We plan to go live with additional languages within the next one month."