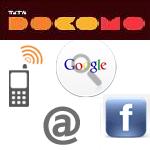 Few days back we reported that TATA DOCOMO will launch its Unlimited GPRS Packs soon. The wait is over now, TATA DOCOMO has launched Unlimited GPRS Packs.

Rs 15 GPRS Pack: It will allow to access unlimited data for 3 days

Rs 95 GPRS Pack: It will allow to access unlimited data for 30 days
Please note that while on roaming (in India) you will be charged 10p/10kb.
To start using it you will have to select DOCOMO internet APN on your handsets after downloading the GPRS settings.
TATA DOCOMO claims that with a GPRS connection, the phone is "always on" and can transfer data immediately, and at higher speeds.
Once you have bought the GPRS Pack :

To start using internet on your phone all you need is to save the settings as default settings. (By default you are provisioned for TATA DOCOMO Internet and DIVE IN at the time of purchase of the connection if you have a GPRS compatible handset.) To get Internet settings SMS "INTERNET" to 52270 (toll free on TATA DOCOMO HOME & CHARGED Rs.3 at non DOCOMO Network) and save them as default settings. Once you have done that, just go to your internet browser on the phone at start surfing.
___________________________________________________________________________