Diabetes prevention health initiative taken by Nokia in association with Arogya World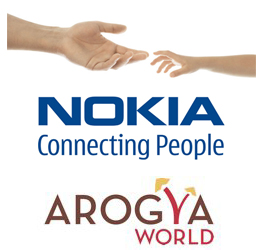 Nokia India has partnered with Arogya World (a US based non-profit organization) and has announced a diabetes prevention mobile health initiative in India. It aims to reach one million Nokia Life Tools consumers in rural and urban India in the next two years through text messages on diabetes awareness and prevention available in multiple languages. This initiative will use mobile phones as a tool to fight against chronic non-communicable diseases like diabetes.
As part of this initiative, Arogya World will offer free diabetes awareness and prevention content to consumers for six months to existing and new Nokia consumers in India who have Nokia Life Tools service on their phones. Messages will be delivered as text message alerts, twice a week, in 12 different languages commonly used in India. Once the initial program is over, the consumers will have the opportunity to opt-in to receive diabetes awareness and prevention messages at a nominal fee.
This effort is also supported by various organizations from multiple sectors in India and the US, including Emory University, Synovate, Biocon, LifeScan Inc.and Aetna.