Windows 11 operating system from Microsoft is known for offering a lot of options to the users to choose from and customize the working and appearance of the system for the device they are using.
One such option offered by the company is for users to enable the High Dynamic Range or HDR mode and change the color profile for applications to show more accurate colors.
When the HDR mode is enabled on Windows 11, some applications use International Color Consortium (ICC) profile do not display colors accurately as they are restricted by the RGB color gamut. But, the user can allow these apps to access the whole gamut of HDR.
In this step-by-step guide, we will show you how you can enable the legacy display ICC color management for the selected applications to take advantage of the high dynamic range (HDR) technology.
How to enable HDR using display ICC color management in Windows 11
Step 1: Select the app you want to enable HDR support and make sure the application isn't running.
Step 2: Right-click on the app icon and then from the contextual menu, select the "Properties" option.
Step 3: On the Properties window, select the "Compatibility" tab.
Step 4: In there, under the "Settings" section, check the box for Use legacy display ICC color management" option and then click on the "Ok" button.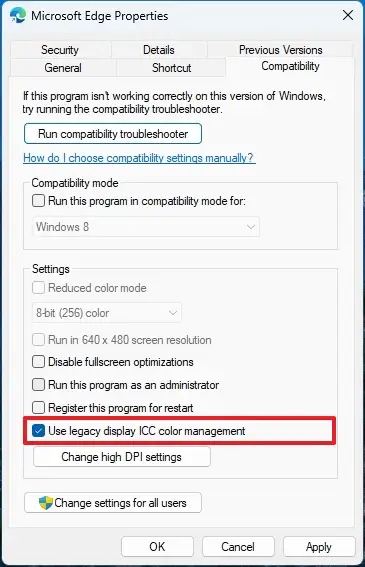 That's it. Once you have followed the above-mentioned step-by-step guide on your system, then the selected application will show more accurate colors and access the full gamut from the HDR display. Do note that the feature is enabled only when the HDR mode is enabled.