Thanks to the Internet and a variety of apps on Google's Play Store, more and more people have started reading on their Android devices instead of reading on a computer or from a print. There are many reading apps which provide the best experience a user can expect while reading.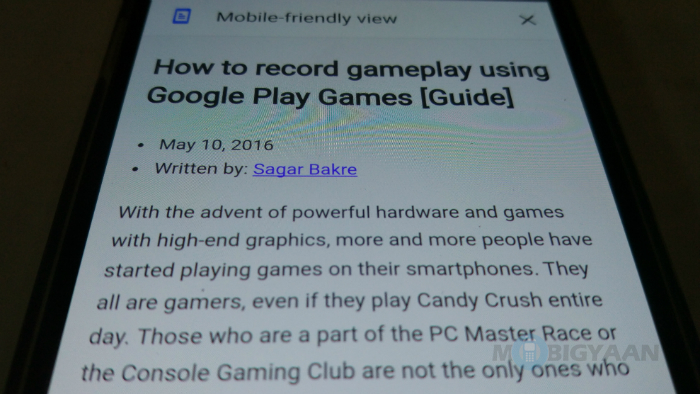 As a reader one would expect simple, clutter-free experience while reading. No ads, just the text and images of the article. While there are apps which you can use to enjoy reading from your Android device, sometimes there are articles which need to be opened and read from a browser. What if someone share a link to an article which can only be opened in a browser? You will have no choice but to read it from a browser while also coming across all the other unnecessary stuff like advertisements, etc.
There's a hidden reader mode in Google Chrome but the option to enable that reader mode isn't easily available to the users. If you don't where where to find it, we show you how to enable reader mode in Google Chrome with the help of this tutorial.
How to enable Reader Mode in Google Chrome for Android
Note: Before you follow the instructions given below, let me tell you that this is an experimental feature. That's the reason why it's hidden from the general settings menu. So we advice you to proceed at your own risk. However, having said that, we didn't come across any issues while using this reader mode and it worked properly most of the time.
Step 1: Open Google Chrome and type 'chrome://flags' in the address bar and then press the enter button.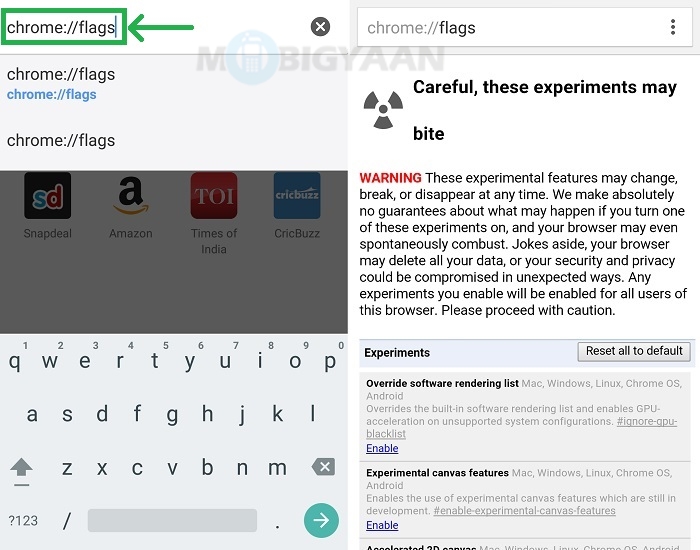 A page will open saying "Careful, these experiments may bite" in big bold letters. Now tap on the 'three-dot button' of Google Chrome provided at the top-left corner and then tap on 'Find in page'.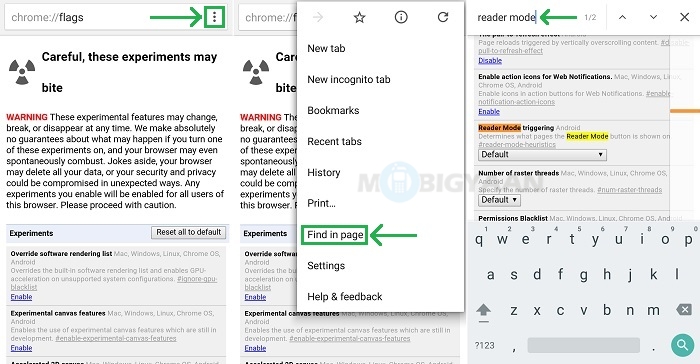 This will open a search bar. You need to type 'reader mode' in the search bar.
Step 2: After you search for reader mode by typing in the search bar, the option to enable reader mode in Google Chrome will be highlighted. The option reads 'Reader Mode triggering'.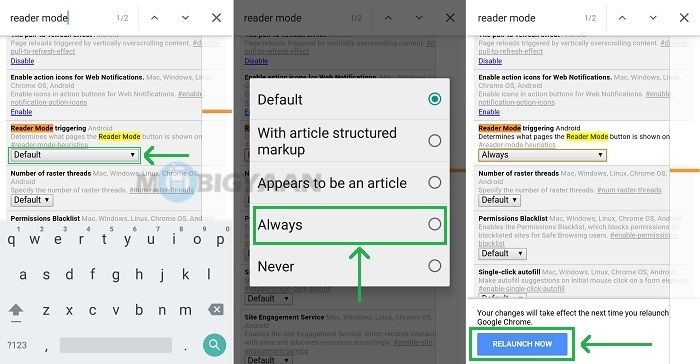 There will be a drop-down list below, tap on it. You will be presented with five options with a radio button provided against each one of them. Select the 'Always' option by tapping on the radio button provided against it. As soon as you do so, a button will pop-up at the bottom which reads 'Relaunch Now'. Tap on it. This will re-open Google Chrome automatically.
Step 3: Now open an article of any website you like. As soon as you open the article page, an option will pop-up at the bottom of the webpage which says 'Make page mobile-friendly'. Tap on it.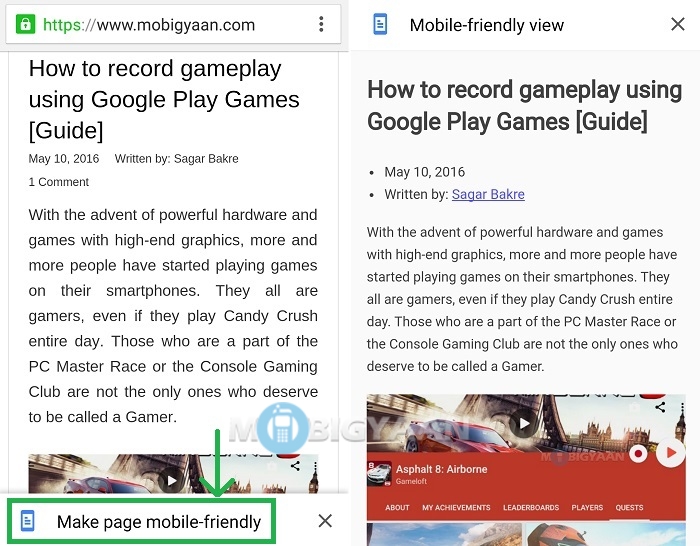 As soon as you tap on the 'Make page mobile-friendly' option, the reader mode on Google Chrome will be enabled and you will notice the difference. You will instantly see a clutter-free view of the article's webpage.
We hope you were able to enable reader mode in Google Chrome for Android and enjoy a clutter-free, distraction-free reading experience. Do share this trick with your reader friends as well. We have more tricks for you in our How-To Guides section, do check it out.