The Moto X smartphone has just released  after a lot of rumors and hype. Although it seems like a good phone, nothing really jumps at us except may be a 10-megapixel cam and the elegant wallpaper it is endowed with. We also fell in love with its  form factor. Amongst other things, we were also wondering if India will ever see its release given that they packed up lock, stock and barrel from here.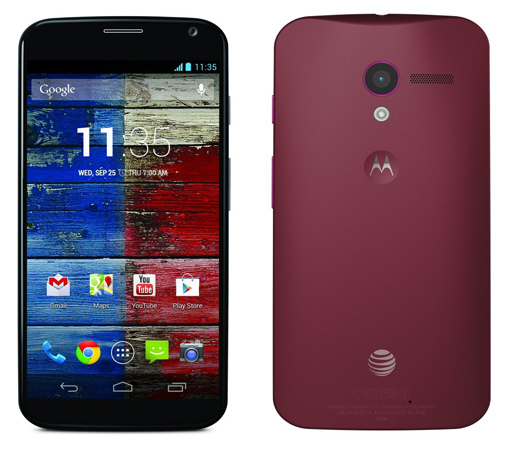 The specs are well something we would classify as average according to  the times, which is kind of different from what Motorola used to do when it launched its own handsets – remember the Razr series.
It comes with a 4.7-inch AMOLED screen, with a high resolution of 1280 x 720p – the thing that slightly good here is the Active Display feature which lights up certain pixels only for notifications saving battery power.
The biggest turn-off is that Google and Motorola chose to stick to a dual care 1.7 GHz processor in the era of quad-core processors. It bulks up with 2 GB of RAM though. It comes with a 10-megapixel camera with a ClearDisplay feature. Although they claim that would give better low light and day light shots along. That just sounds like what many manufacturers claim on their handsets. On the upside, it comes with 1080p video recording. There is also a run-of-the-mill 2-megapixel front facing camera.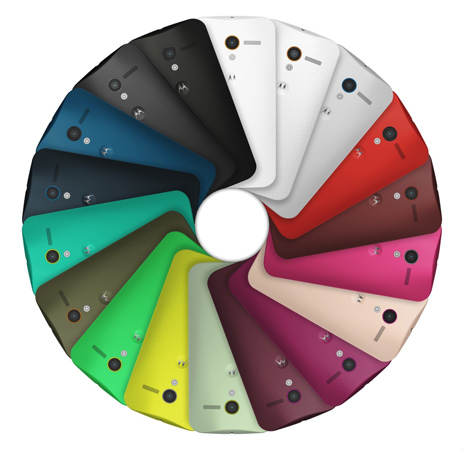 You can also customize the device according to your choice of colors. What this means is you can change the front cover and back cover according to your choice, Yay! for that.
This is the only thing to be honest that still keeps us jumping for the Moto X. Even if it isn't the Google Play customzations, it does give you many things to choose from. You can also choose the accents and the wallpapers. And you can choose the accessories too!
They claim they have around 2000 customizations on offer. Some people claim that there are 504 versions of Moto X possible. It also has a touch less control feature, something that we have seen from Samsung and Apple in the past – it is kind of a voice assistant derived from Google Glass and Chrome Voice search.
But, if you are even slightly excited  about the release, you  would be glad to know that Motorola has revealed that it will come out with a Google Play version of the handset soon – too bad that most of us were hoping that both the smartphone and the Android 4.3 update will pour in together.
Most of us had thought that ever since the Motorola  buyout, the upcoming Motorola phones would just run stock Android rather than manufacturer/carrier bloatware. Sadly, that is not true since Google it seems, doesn't want to show its Android partners, that it is in any way, favoring Motorola.
But, what's there to be so excited about the Google Play version of the Moto X? For starters, all the manufacturer carrier restrictions will be removed and the handset will be more customized than any out there. Earlier you needed to root your handset for doing so and that could sometimes render your device useless by bricking it. But, now, since the whole thing comes from Google, you needn't take that risk.
Also, there will be no more huge waits for updates with phones like the Google Play Moto X. Pricing for this version hasn't been announced as yet, but as far as we are concerned, even the $574.99 and $629.99 are well, kind of not too great. If the Google Play version is even more expensive, it will surely be deterrent.
But if the pricing makes you sad, we have something that lighten you up. The new Motorola CEO Dennis Woodside indicated that there are cheaper versions in the pipeline. "Moto X is the brand that we are most focused on, we want everyone to have access to affordable smartphones."
We would love to see a Moto X Mini, wouldn't we?