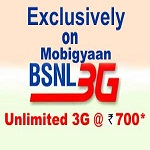 We are very pleased to share this BIG BIG NEWS with our loyal readers. BSNL has yet again announced tariff reduction for 3G users. Yes, you read it right, BSNL has further reduced the Unlimited 3G charges by almost 50%. The effective cost of using unlimited BSNL 3G will be Rs. 700/month* (Rs. 4,200 for 6 months) from 1st November 2010. There is no fair usage policy applicable on this scheme so you can download/upload as much as you want. In addition to the reduction in monthly rental, BSNL has also reduced the price of its Data Card.
Earlier, we were the first to break the news of 3G tariff reduction in the month of September when BSNL reduced the unlimited monthly rental from Rs. 2,499/month to Rs. 1,499 and now we are again the first to share BSNL 3G tariff reduction.
All new 3G registrations shall be entitled for one week unlimited data download in addition to the existing freebies offered with new activation. The promotional unlimited data download facility will commence from the date of activation of 3G plan and after 7 days normal freebies of 200 MB will be credited to the account of the prepaid customer. This facility is applicable to both prepaid and postpaid new connections. This offer of unlimited download for a week will remain open for a promotional period of 90 days from the date of implementation.
Tariff for unlimited data plans:
Amount in Rs.

(Incl. of S. Tax @10.3%)

Validity in case of Prepaid

No of months advance

FMC in case of

Postpaid

Rs. 2000

60 Days

2 Months

Rs. 2500

90 Days

3 Months

Rs. 4200

180 Days

6 Months
In case of 3G prepaid service, the amount mentioned above will be charged through RCVs and in case of 3G postpaid service the amount will be recovered as advance Fixed Monthly Charges (FMC).
This offer will remain valid for a promotional period of 90 days from the date of implementation.
Limited period Data Card offer:
Name of the

Vendor (Type)

Make/

Model

Data

Speed

Frequency

Band

Existing MRP

(Rs.)

(Incl. of all taxes

Promotional Offer

Price (Rs.)

(Incl. of all taxes)

M/s. TERACOM

LTD

(USB Type)

Linktop /

LW272

3.6 MBPS

Single

Band

2500

2000

Linktop /

LW273

7.2 MBPS

Tri Band

3000

2500
The above promotional scheme for data card will continue till further order and the above tariff will be implemented with effect from 01.11.2010.
These are rock bottom prices for unlimited 3G in India. This tariff reduction is bang on target and will surely give Private Telecos like DoCoMo & Airtel tough time, who are on the verge of launching their 3G services in India. BSNL has step up to the occasion and has made sure that the private providers will have to do something out of the box to attract customers. This is not going to be easy for private players after paying a huge amount of money to acquire licenses and the fact that no provider has license to operate in every circle, makes it even tough to establish themselves as a key 3G provider in India. Every 3G provider will have to make tie-ups for providing services on roaming which will again increase the cost. It will be interesting to see how private providers react to this brutal blow from BSNL.
Do share your views on this massive tariff reduction…