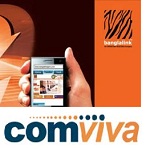 Comviva recently announced that it has partnered with Banglalink, the second largest cellular service provider in Bangladesh, to deliver mWallet services. Comviva is providing its award winning mobiquity mobile commerce platform to enable Banglalink to offer integrated financial payment service which allows subscribers to conduct a variety of transactions over the mobile. This includes international and domestic remittance, utility payments, and mobile ticketing services.
Comviva's mobiquity platform enables the mobile channel to create a flexible, far-reaching financial services delivery network, cost effectively. It uses the mobile phone as a convenient, cash-free and card-free payment and transaction medium, enabling storage and transfer of money to and from a secure, stored wallet account, resident on the phone or the server. With mobiquity, mobile users can quickly, easily and securely access a range of financial payment services. 
The service will work under a 'bank-led' model and the banks will offer mobile wallet accounts to the remittance receivers through the Banglalink network. This is for the first time in the whole of South Asia, international remittance service through mobile phone is launched. Already the mobile remittance service is available at almost 1,000 Banglalink outlets throughout Bangladesh. There is plan to increase the reach even further.