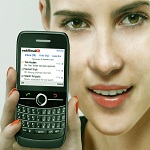 With Rediffmail NG, Indian mobile users now have the advantage of being able to send and receive unlimited email, look up contacts and assign tasks to the calendar, and set reminders with the same ease from mobile devices as from their PC for a price of Rs. 50 per month, inclusive of data charges.
Rediffmail NG works across almost all mobile phone platforms including Symbian, Java, and Android, including all entry level phones which cost as little as Rs. 2000. Users of Rediffmail NG can maintain service upon switching phones which has become increasingly important with the introduction of new phone models on a continuous basis. Additionally, Rediffmail NG offers seamless service across a users phone and PC, providing instant and secure synchronization, and full-service features including multi-taking capabilities, administrative control, SMS and always-on e-mail service.
The availability of mobile-based broadband services is expected to dramatically increase following the recently concluded auctions for 3G and wireless broadband spectrum, where telecom companies have bid and paid US $22 Billion for spectrum license fees.
Users can purchase Rediffmail NG directly via the Company's website at www.rediff.com by clicking on the Rediffmail NG icon and following a few simple steps. Additionally, service can be easily obtained by sending an SMS, text message with the word "mail" to 57333 whereby users will be guided to the enrollment page or connected to a local Rediff representative.