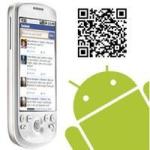 It's my routine activity to check for app updates in the Android Market place. Today I had a pleasant surprise. An update was available for Facebook for Android. I instantly updated it and opened the updated app. I was in for a pleasant surprise.
Initial reaction: The home screen looked much more mature and polished. The icons and other UI elements have been given a total face-lift. There was a new photo reel in the home-screen which is actually a carousal of pictures and media posted by your friends. Sharing a status update has now become easier with this version.
Further exploration: The new version includes support for event management. The events homepage and the individual pages look slick. In android devices which support multi-touch, the Facebook image gallery now supports pinch zooming. The notification bar in the home-screen expands when dragged across. A lot of activities like responding to friend request, commenting, RSVPing events can now be done without having to leave the application and switching to the browser. Opening links shared by your friends no longer needs long press. I have not yet tested the video playback capabilities.
Missed out: Facebook chat is a feature which the iPhone users have been enjoying for quite sometime now. This isn't available in the current update in Facebook for Android.
The user interface is now improved a lot and mobile user usability has been given a lot of consideration. The design look slick and the application speed has improved a lot. Overall, this is a welcome update for the Android users and we don't feel left behind the iPhone users.