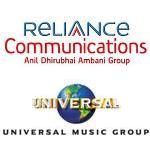 Reliance Communications
today announced the signing of an exclusive strategic partnership with Universal Music to offer music-related services and content across RCOM's GSM, CDMA, 3G Mobile and Wireless Broadband platforms. The agreement between Reliance Communications and Universal Music has been signed with a commitment of substantial investments to be made by both the parties to offer 360 degree music experience to customers across all platforms including Voice, WAP, Web, IVR, Blog & through On-Ground Events.
The agreement with Universal is a prelude to RCOM's 3G launch since Music offers the potential to provide the best consumer experience on 3G network. This is the first ever biggest & most comprehensive music partnership signed in India by a telecom operator. Universal will offer its entire catalogue of international and Indian music to RCOM. Universal's music catalogue boasts of some of the best of Indian & western billboard artists such as Shaan, Sunidhi Chauhan, Bon Jovi, Bryan Adams, The Black Eyed Peas, Enrique Iglesias, Eminem, Lady Gaga amongst Others. 
RCOM's agreement with Universal Music is in line with similar deals signed by the conglomerate with other global operators across the globe including with UK Orange, SingTel, Digi Malaysia, Bouygues Telecom, France Orange, Belgium Base and other Eastern European Operators.
RCOM and Universal Music will also arrange exclusive Indian concerts with Shaan, Sunidhi Chauhan, Mohit Chauhan and others. The partners will also line-up international concert with contemporary pop singers currently ruling the billboard charts worldwide.
As part of the first consumer effort Reliance Communications is launching Simply Music Initiative across the country. This is a holistic music pack offering services like exclusive caller tunes, ring tones, Mobile Radio Web Streaming, Full tracks etc for all Reliance customers across GSM and CDMA networks. Simply Music comprises of two packs – Gold and Platinum.
The Simply Music Gold Pack will comprise of 3 full length track, 3 ringtone, 4 callertune and 30 minutes mobile Radio Web streaming. This pack will be available for a monthly subscription of Rs 25 only.
The Simply Music Platinum Pack will comprise of 10 full length tracks, 10 ringtones, 10 callertunes and 100 minutes of mobile Radio Web streaming. The Platinum pack will be available for a monthly subscription of Rs 99 only.
As the use and demand for smartphones increases and driven by increased consumer spending on leisure items and entertainment services, Reliance Communications sees a huge opportunity to reach out to its GSM customers through such differentiated offerings following the roll-out of its 3G services in India. Reliance will ensure that the music content offered through these partnerships will have mass appeal as well as extensive usage potential besides providing entertainment for leisure time.