Well yes, back on December 28, 2011 an app developer 'Official App' successfully made a submission of an 'official' Siri for Android app in the Android Market, but Google acted soon and now the app has been removed from the market.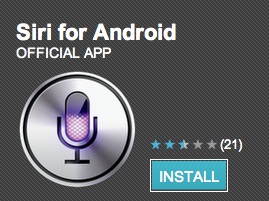 The developer who was able to get the app approved from Google even used the Apple's own icon for the app.


The name of the app, plus the developers name was enough to get about 1000 installations of the app over Android devices. Google in a swift move removed the app, plus removed all the other apps from the same developer that were in the Android Market.
This shows us how easy it is to get any dubious app approved in the Android Market as Google does not have any proper checking and approving mechanism for apps.