So after loads of speculations and rumours and even denials, Airtel is announcing the launch of its 4G services in India and with this it becomes the first mobile operator in the country to launch the 4G services.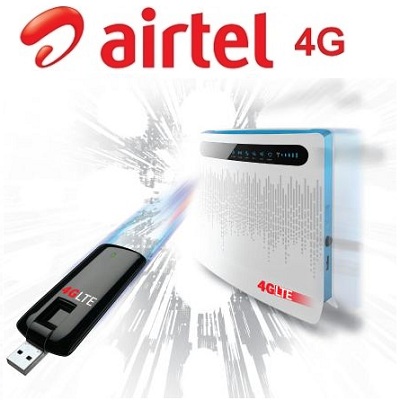 There are not many 4G handsets available in India, so most of the prospective users will only have to depend on 4G LTE enabled USB modems and 4G LTE Indoor Wireless Gateway which will be provided by Airtel only.

Getting into details of the 4G devices that Airtel will provide, first up is the Airtel 4G LTE USB Modems/Sticks.
 
With the Huawei USB Stick provided by Airtel, any user can connect to a laptop or compatible tablet PC via USB for high-speed 4G LTE connectivity.
 
Features of Huawei E392 USB Modem:
Multi-mode data download capability

LTE network only with USIM

A USIM card slot to insert a USIM in the device

A USB 2.0 connector to connect the Airtel 4G LTE USB Modem to the laptop/PC

A Micro SD Card Slot to use the Airtel 4G LTE USB Modem as a memory stick.

A self-installing Connection Manager in the Airtel 4G LTE USB Modem
Other than the USB Stick modem, Airtel will be providing the Airtel 4G LTE Indoor Wireless Gateways which will allow users to connect to multiple laptops with high-speed 4G LTE connectivity via Wi-Fi. The Indoor Wireless Gateways are a perfect product when there are multiple users, for instance, in a family or an enterprise.

Features of the Huawei B593:
Data download with unbelievably high speeds

Multiple user access and multi-screen video chat (from different locations)

Built-in DHCP Server and NAT

Security serve: Comprehensive and robust security services. Provides instant protection that blocks potential security risks and intrusion attempts

Intuitive and convenient web-based management

Local management and maintenance services for your gateway
So the Huawei E392 USB Modem and Huawei B593 Internet Wireless Gateway are the two devices that Airtel is offering to all its users in Kolkata. But as time passes we expect the company to add more devices so that users get a variety of options to choose from.

Will you buy these devices to access 4G or would prefer to stick with the 3G plans for sometime? 

Also Read: Airtel 4G Prices and Device Pricing in Kolkata