FIFA Superstars and Theme Park now available for free on iOS
EA Interactive has added FIFA Superstars and Theme Park to its offering of free-to-play games for iOS. Both games are now available for free download in the iTunes App Store, and are compatible with iPhone, iPod and iPad.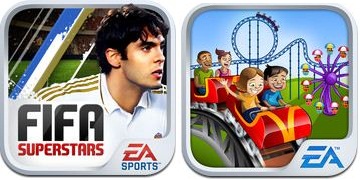 FIFA Superstars for iOS brings the popular Facebook game to mobile device. From Rooney to Kaka – players can choose their favorite football superstars to manage their utlimate team and compete against friends in this officially licensed FIFA title. Buy, trade and train while overseeing a team's season – from your mobile device – with the biggest football franchise on the App Store. Download the game from here.
With Theme Park, EA brings the bestselling series to iOS as a completely new gaming experience. Players can create, manage and develop their own theme park with exciting rides and enticing shops. Complete quests to level-up and unlock new features. Players have the ability to build up their park right away and play for free indefinitely, or choose the option of purchasing Super Tickets to accelerate profit and construction times and unlock new rides and shops early. Get the game over here.