We are just a week away from the Consumer Electronics Show (CES) 2013 and leaks are flooding in. Earlier today, we saw the leak first press shot of the Sony 'Yuga' Xperia Z

smartphone

appear online and now it is time for the Sony C650X 'Odin' to pose for us.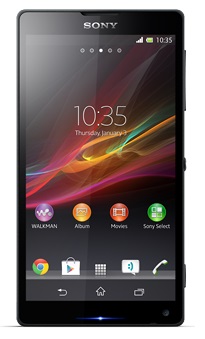 This time around, the image has leaked straight from Sony's website and thus guarantees the authenticity of the image. Plus the image is titled as Xperia Odin so it might be the case that it might launch under the same name.

The image is small in size but still reveals and confirms that the Odin will pack in the front facing camera on the rear of the

smartphone

, which is a totally new placement from Sony or any OEM for the matter. Also, there is a notification light at the bottom-center of the

smartphone

as we can see it in action in the image.
 
The Odin is expected to launch as the Xperia X and could be the international variant of the Xperia Z. Though the design of both the

smartphones

have

a lot in common, the source suggests that the back of the

smartphones

will be different for sure.
 
A week more to go until things go official and with that we also expect more leaks to flow in. Stay tuned to us!

Update: The Sony Odin will arrive as the Sony Xperia ZL and probably not as the Xperia X and this has been revealed by the URL found on Sony's website. Also we have updated the image with a better one.