Increasing penetration of Internet in India has also given rise to e-commerce industry. While Flipkart and Amazon are more famous, there are other players as well. One of the reasons why more and more people have started buying stuff online is that they can return the product if they don't like or get it replaced if it's faulty. While there's Cash-on-Delivery option to make payments, you need a Credit Card to make your payments and not many people in India have that.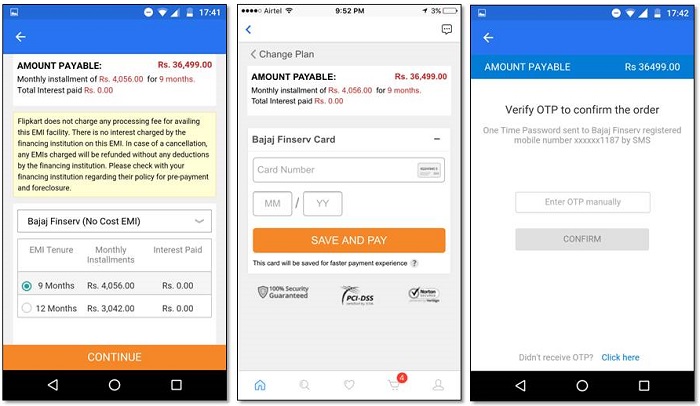 Those who make use of credit cards end up paying interests for the purchases they made by availing the EMI option. This makes the total cost of a product higher than its retail price. Hence, Flipkart has introduced the 'No Cost EMI' option to make shopping more affordable for the masses than it already is.
"Less than 1% of Indians have access to credit cards, and the traditional banking industry has been slow in addressing the need for small personal loans. This is the first step towards making shopping truly affordable for masses online and brands have shown great enthusiasm to collaborate with us. This has the potential to disrupt online shopping just like we did with Cash on Delivery a few years ago." said Mayank Jain, Senior Director and Head of Digital & Consumer Financial services, Flipkart.
With Flipkart's 'No Cost EMI' option, customers won't have to pay any processing fees, interest or down payments. Flipkart has teamed up with Bajaj Finserv and other key brands to create this offering. As of now, this offer is only available for a select few products and sellers. The EMI tenure of this offer ranges from 3 months to 12 months.
Maybe this decision of Flipkart will help it gain edge over other competitors like Amazon, Snapdeal, etc in the market.
For more details visit here (Flipkart Page)