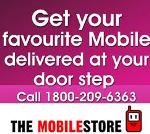 Home Delivery of Mobile Phones??? Yes, that's what The Mobile Store has announced. Now you can get your desired Cell Phone delivered at your door-step by TMH. To get it delivered at your place, all you need to do is dial 1800-209-6363. Currently the "Dial and get your mobile delivered at your home" service is available in 163 cities across India and will be extended to more cities soon.
In order to ensure secure and safe payments for customers, the scheme eliminates the need for the caller to share his credit card details while ordering a phone. During the entire transaction, completely authenticated through an IVR call to the customer's mobile, the customer need not share any credit card details. 
So the customer located anywhere in India can make the purchase by just making a single phone call and get the mobile phone delivered anywhere in India (wherever the The MobileStore is present).
You can also Gift Mobile Phones using this service by TMH. What do you think about it?