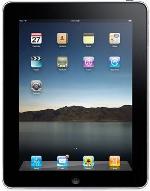 If what The Telegraph has reported is to be believed then this January, Indians are in a for a bigger surprise as Apple is all set to launch the iPad in India, finally putting an end to it's wait !!.
This slim tablet has a multi-touch screen measuring 9.7 inches diagonally and uses a display technology called IPS (in-plane switching) enabling users to get a wide 178-degree viewing angle. It supports high definition video playback (up to 720p) and opens almost all video, audio files and documents. Moreover, the device will run on an enhanced version of the Apple iPhone OS and boasts of a 1GHz A4 processor with graphics.
An iPad owner will be able to buy or download books for free using the iBook, display PDF's and text files and will be also capable of doing PowerPoint and Excel jobs. The iPad will be an internet oriented device that supports 3G technology.
The iPad if released will be available in two versions. One with only Wifi providing 16GB, 32GB and 64GB storage and the other with a Sim Card with 3G data connectivity and WiFi. A lot has been speculated about the price of the device but until official confirmation, all we can do is to wait and watch !!!.
Also Read :
Exclusive : BSNL to announce iPad Data Plans, iPad to hit India soon
Exclusive : BSNL's 3G Data Plans for iPad