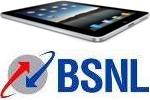 Yesterday we broke the news about BSNL's plans to announce iPad Data Plans. We have got some exclusive details about what plans BSNL will be providing. BSNL will provide 3G Data Plans for iPad to both its Prepaid and Postpaid consumers. We have also learnt that BSNL will initially offer 3G Data Plans for iPad in Andhra Pradesh, Gujarat, Haryana, Karnataka, Maharashtra, Rajasthan, UP (East), UP (West), Chennai and Kolkata telecom circle. 
Here are the complete details :
Prepaid Plans :
Starter Pack is priced at Rs. 100, it will come alongwith Free Usage of 1GB/month for 6 months. For Prepaid consumers BSNL will provide 3 Plans namely, Unlimited monthly plan, Limited monthly plan and Daily Plan.

Postpaid Plan :
BSNL will charge one time activation fee of Rs. 100. There is only one plan available for Postpaid users i.e Unlimited Monthly Plan. It will be available at Rs. 999/month with unlimited usage and no FUP.
Also Read :
Exclusive : BSNL to announce iPad Data Plans, iPad to hit India soon
Exclusive : BSNL introduces Micro SIMs