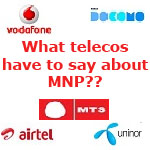 MNP has finally arrived after a long delay and subscribers can now change the providers without changing their numbers. We are well aware of the reasons for the delay but now that it has launched, there are many statements coming from the top officials of telecos. Here is what top officials of telecos have to say :

Vsevolod Rozanov, President & CEO, Sistema Shyam Teleservices Ltd (MTS)
"Post MNP, Mobile tariffs will go down further especially if we look at the post-paid customer base. Where as in the pre-paid segment, I doubt a significant change in their tariffs or profitability. At MTS, over the next few days, we are launching a slew of innovative offerings for migrating GSM and CDMA mobile customers across India. We are confident that all these migrating pre-paid and post paid customers, will find all our offers extremely appealing".
MTS MNP Plan
FRC 13: All local calls at 1 paise/2 seconds for 3 months
SRC 50: Second recharge of 50 offers main balance of Rs. 43 and promo balance of Rs. 32
RC 109: Main balance of Rs. 98 and promo balance of Rs. 11 which equals to Rs. 109. All local calls at 1 paise/2 seconds and 109 free local minutes with a validity of 30 days. Subscriber has the freedom to recharge with RC 109 every month for next 12 months.
The last offer is pretty good for those having a budget around Rs. 100 as it not only offers 109 local minutes but full talktime of Rs. 109 with a tariff of 1 paise/2 seconds.
Samaresh Parida- Director, Strategy, Vodafone Essar
"The choice for MNP for customers will be triggered by a number of factors. Companies that have a strong brand proposition, superior network quality, innovative and differentiated products and services and greater predictability of quality of customer service will have an edge. High value customers are extremely wary of changing to the new lot of service providers that have limited or untested network coverage and quality. We, at Vodafone have made considerable investments in our quality of network and customer service and are geared up with the technology to enable number portability. We have set up a customer care cell to seek feedback with subscribers opting for change. We believe our business and brand proposition backed by the quality of network and customer service, positions us to benefit from MNP."
Vodafone is currently not offering any MNP plan. No surprise there as we know that Vodafone strongly relies on their network and services to procure subscribers. They were never really in the race to offer competitive tariff.
Airtel
"We are delighted to invite all mobile users to join India's Network – airtel. We welcome you to a network that enjoys the trust of over 150 million customers and the power of a brand which has brought many firsts. These include India's first Blackberry services, i-Phone, app store with over one lakh applications, Hello tunes – and now mCommerce services aimed at large scale financial inclusion. Our customers enjoy a network which connects over 5000 towns and 4.5 lac villages, offers widest domestic and international roaming, recharge facilities in over 1.5 million retail outlets, a 24×7 customer care and Self Care services. We see MNP as an opportunity for us to share our life enriching services with more and more people."
Airtel MNP Plan
Airtel has recently announced that it will give some surprise offer to those who migrate to Airtel. This surprise can be additional talktime, free sms or special call rates.
Goto http://www.airtel.in/movetoairtel/ and register with your name and mobile number to get the surprise.
Mr. Rajiv Bawa, EVP, Corporate Affairs, Uninor.
"It's the day of freedom in the mobile industry today. Customers are finally free to choose as they want. Customers now have real power to make their operators pay attention. This is free and fair competition and we welcome it. We are ready and eager. In Dynamic Pricing, we have a product that stands apart from anything else out there in the market. MNP will now allow prepaid subscribers to get the benefits of upto 60% location and time based discounts on their calls by moving to Uninor. We have a hero product with three virtues – it is unique, it is not easily replicable and it is proven in the market – having been the key driver of our subscriber growth over the past six months. So we will go with Dynamic Pricing and use creative and targeted ways to attract pre-paid subscribers to it. You keep the same number but start getting upto 60% discounts on all your calls – that is a powerful proposition."
Uninor is currently not offering any MNP plan and it is clearly evident that uninor has nothing to offer other than its "Badalta Discount Plan" which rarely gives discounts more than 20%.
Mr Deepak Gulati, Executive President, Mobility Business Division, Tata Teleservices Limited
"We have been strong advocates of Mobile Number Portability (MNP) for years and welcome the new regime that begins today. This is a beginning of an era which will give new direction to the Indian telecom industry—as a Tata Group company, we have always felt that the power of choice should be left to the customers. Customers should have the right to choose whichever service provider they find the best—and it is up to the operators to provide the best possible services to keep their customers loyal to them. MNP will be a great leveler, because it will liberate telecom users and give them the power of choice. As far as Tata Teleservices Limited is concerned, we are sure our cutting-edge technology and a robust network will help us not only retain our more than 85 million happy and satisfied customers, but also gain the position of operator of choice in the new regime. TTL's MNP strategy will ride strongly on a simple tariff structure and strong customer care and service levels."
Tata Docomo MNP Plan
Tata Docomo has launched few offers for those who migrate before 31st January 2011.
The sim will carry an initial Talk time of Rs. 10, all Local On-net calls will be charged at 1 paise/2 seconds for 3 months, subscriber can avail 99 local/national sms free for the day after the first sms of the day charged at default rate.
Tata Docomo has also launched a full and extra Talk time offer wherein customers will get full talktime on Rs. 100 and Rs. 200 recharge and Rs. 330 and Rs. 450 talktime on recharge of Rs. 300 and Rs. 400 respectively.