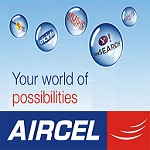 Aircel has joined the bandwagon of offering free On-net calls weeks after Tata Docomo launched their scheme of 5 lakh seconds.Aircel has gone one step further by offering a recharge voucher priced at Rs 96 which offers 5 lakh Aircel to Aircel seconds plus 7200 local Aircel to Aircel sms with a validity of 1 year.

Every month 41,700 seconds will be credited in your account balance and will be lapsed if not used.Subscriber is also entitled to get 600 local Aircel to Aircel sms per month which will be lapsed if not used.

Other calling and sms rates will remain the same.Benefits are not applicable on roaming.

Aircel has also introduced a new voucher priced at Rs 45 which offers all local calls at 1 paise/2 seconds with a validity of 30 days.There wont be any change in sms and std rates after recharging with RC45.

Aircel has launched both vouchers at the exact time because Mumbai is witnessing a new CDMA provider,MTS which already offers calls at 1 paise/2 seconds and Maharashtra is also on verge of getting the same scheme of MTS soon.The price war in both these circles is heating up with big guns like Airtel and !dea lowering their call rates from 1.2 paise/second to 1 paise/second.Both these vouchers will help Aircel stay in the competition.