Now, this is pretty cool! Sendly is a credit transfer and a top up recharge app, developed by Rebtel and they have a pretty great offer going on. You wouldn't want to miss out on this one.
Sendly is offering a flat 75% discount on your first top up with them. So, that means a recharge of $3.82 (~Rs. 235) will get you a talk time balance of 1,000. Yes, you read that right.
There are three offers from Sendly. The first is a recharge of $1.16, which will get you a talk time of 300. Then there's a $1.92 recharge, which gets you a talk time of Rs. 500. The last plan is of $3.82 (~Rs. 235), which will get you a talk time balance of 1,000.
Don't worry if you are confused on how to go ahead with it. We'll tell you! First, you need to download the app. Sendly is available only on Android and iOS as of now. So, we are sorry Windows Phone and BlackBerry users. You can download the app from here.
How to get the offer? We'll tell you..
After you have installed the app on your Android or iOS device. You need to open the app and Sign Up with Sendly. You can choose to Sign Up through your email or you can just go ahead and connect your Facebook account. The Sign Up process is simple and very quick.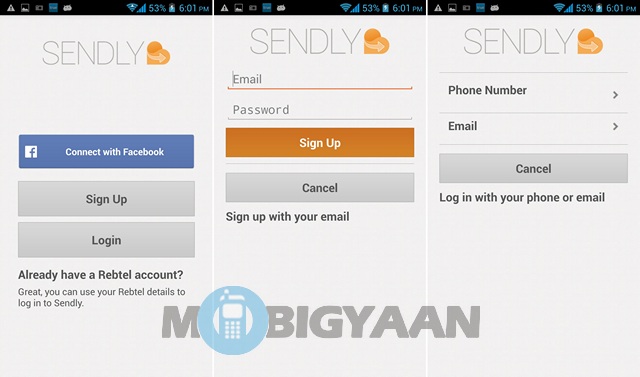 Once you have signed up and signed into the app, you'll be taken directly to the Top Up page. Yes, the interface is very fuss free. On the Top Up page, you can enter the number you want to recharge or you can choose the number from your contacts. Don't forget to enter the country code (+91 in India) in the number.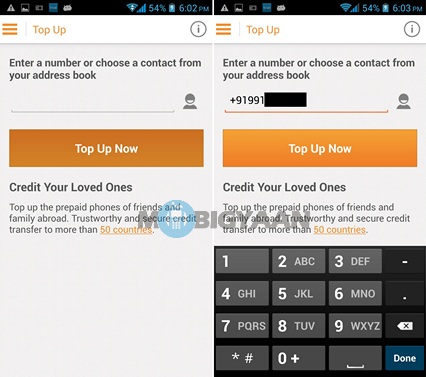 After you've entered the number, you can choose the amount out of the three plans we mentioned above. Then, you can select the card type you want to pay with. Sendly supports three card types – Visa, MasterCard and American Express. If you don't have a Credit Card, worry not since Debit Cards are also supported. After you choose your card type, you can fill-in the details of your card. Enter your secure code or password and voila! You're done and you'll receive your talk time balance.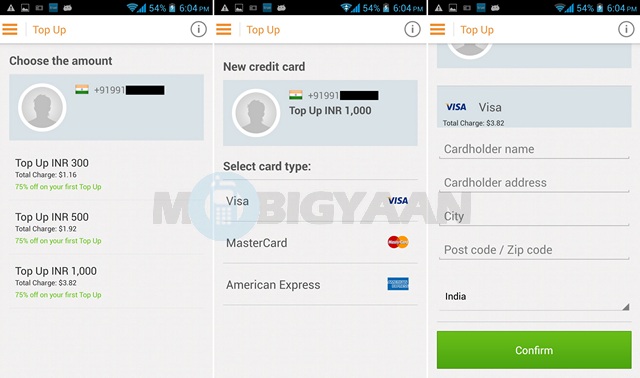 After your transaction is successful, you can check your transaction history by swiping across the left edge of the display.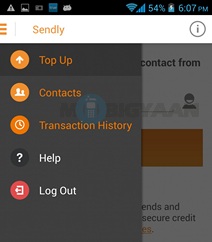 If the app shows your payment as 'processing', we'll suggest you to be a little patient as it happened with us too. We have tried this ourselves so, be sure this works. We used Sendly to recharge a Vodafone number. Sendly supports operators across the globe, so you can send Top Ups to even people abroad but there are some operators not supported.
We don't know till when Sendly plans to offer this great deal but we suggest you to get the offer while it lasts. The offer is only applicable for your first recharge from Sendly. So, what are you waiting for Android and iOS users, hit the link below and get the app and thank us later. Do tell us if you have any questions related to this.
Update: Many people are not getting the recharge. Here is the reply from Rebtel.
– Due to the popularity of the offer in India, your recharge may take longer than usual. Please be patient.
– Our payment providers are facing technical problems due to which some transactions may show as "pending", "still in progress" or "failed". Please note that your funds have been reserved by our payment providers and we have not charged your card. The transaction will either be successful or in all other cases, the money will be refunded to you (Up to 5 working days). Our Support team is hard at work trying to answer all your queries. Please do not send us multiple messages because that will only slow down the response times for everyone. Contact [email protected] for further details.