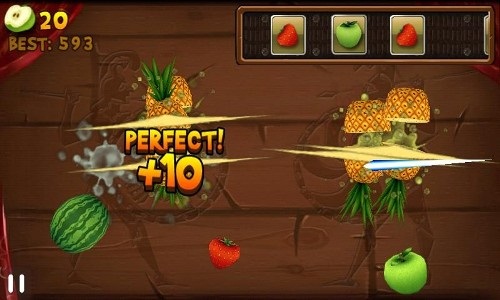 All Android users and fans of the blockbuster game Fruit Ninja, there is some good news for you. DroidHen has released an awesome clone of the game Fruit Ninja called "Fruit Slice". Basically, Fruit Ninja is a paid application on the Android Market while the "Slice" is available for free of cost.
As far as the basic layout and the touch recognition are concerned the game is completely same as Fruit Ninja.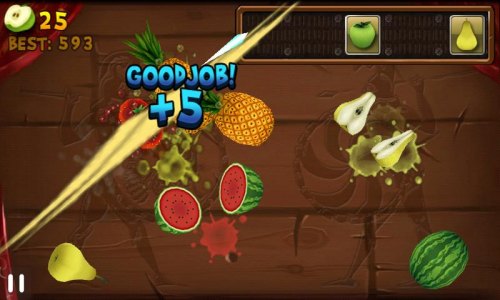 The basic game modes includes:
Classic Mode-This has the basic game play with fruits popping out of the bottom of the screen and the user slicing it with a swipe.

Time Mode-This has a simple timer countdown which shows the amount of time the user gets to make a high score

Pipeline mode-This is unique mode in which fruits move on a neat ramp on the top right corner of the game window and the user has to cut the fruits in the same order as they appear on the ramp in order to make a score and proceed in the game.

One Shot mode-This again is a cool mode in which the users have to slice particular amount of fruits in one shot.
Being a free app, I feel that this game is a good competition for the paid versions of Fruit Ninja (Rs 57/-) and Fruit Ninja HD (Rs. 147/-). Halfbrick Studios, the developers of Fruit Ninja, should really come up with a lite version of the game to remain in the competition.

Download the game from here.