Frustrated with your BlackBerry? Take away a Windows Phone for free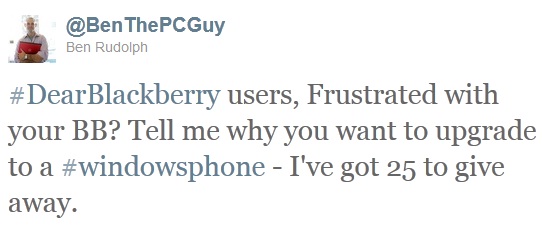 Microsoft is ready to give-away 25 Windows Phone devices to frustrated BlackBerry users. Yes, if you are frustrated by your BlackBerry due to the recent outage, then all you need to do is reply to @BenThePCGuy on twitter and tell him why you would like to switch to Windows Phone and you may soon be the owner of a Window Phone device. Microsoft wants to take full advantage of this situation though it may not result in gaining a lot of admirers but this is indeed an interesting step by them.

So what are you waiting for? Try your luck.
PS: For US only.