Galaxy Nexus to get Adobe Flash and AIR support in December
The first users of the Samsung Galaxy Nexus were so much excited about owning the smartphone, the first Android 4.0 Ice Cream Sandwich device. However their excitement was short lived when they got to know that ICS was not supporting Flash Player thus making their browsing and usage a little less exciting. The news spread like a wildfire and Google immediately announced that Android 4.0 will get the much needed Flash support once Adobe comes down to a conclusion.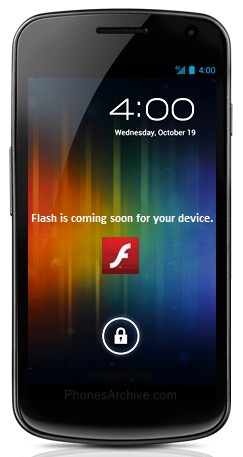 Adobe has now made it official that the Galaxy Nexus will get Flash 11.1 and AIR 3.1 anytime in December. But things are not still clear if other devices running on ICS will get this support or not and that decision lies with the OEMs.

Adobe in a blog post said, "We've received some questions regarding support for Adobe Flash Player 11.1 and AIR 3.1 on the Galaxy Nexus. To be clear, the Galaxy Nexus does not initially support Adobe Flash Player 11.1 and AIR 3.1. As we previously communicated in a blog post, devices and software updates from our partners which introduce new technologies are being developed on varied schedules that are different from our own, which means that the Adobe runtimes may not always be optimized or supported on devices until a subsequent release. We will provide a minor update to the runtimes to support the Galaxy Nexus in December."