UPDATE: [4th December 2012] More than 1,00,000 artists have contributed so far to the Incredible art piece.

How incredible it would be if you got to know that you could be a part of a Guinness World Record? Exciting right?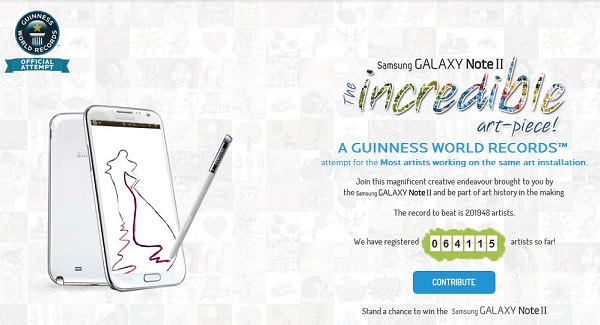 Well, Samsung India has taken up the responsibility of attempting to break a Guinness World Record for the Most artists working on the same art installation to create a single art piece and the company is inviting you to be a part of the record.

Samsung India has announce the 'Samsung Galaxy Note II Incredible Art Piece' which is India' attempt at breaking the current world record held by Great Britain wherein 2,01,958 people contributed to create a single digital art piece.
 
You are provided with loads of options and tools to choose from using which you can draw something inspires you or anything that you like. It is very simple. After you finish drawing, you can submit your art to Samsung and at the end of it, you'll be provided with a certificate of participation which you can download and save as a memory.
 
till now over 64,100 artists had already contributed their art to break the world record and now it is your turn to be a part of the record.
 
We would say, don't miss on this opportunity of being a part of a world record as it would bring glory to India when the record is broken. So head over to the page and contribute an art from your side.
 
If you wish to contribute to the Samsung Galaxy Note II The Incredible Art Piece offline, then you can create an art piece offline, scan and email their contributions through Samsung.com or you can visit any of the Samsung Digital Plazas, Samsung Smartphone Cafe's and Samsung Experience Zones to create your digital art piece and submit it online.