Galaxy S III burns up like a cracker and melts due to overheating
We have seen a lot of reports regarding smartphones overheating and melting due to various reasons. Today we bumped on to a similar story where an Irish Galaxy S III user, who has posted his experience on boards.ie, says that his S III has overheated and melted from the bottom.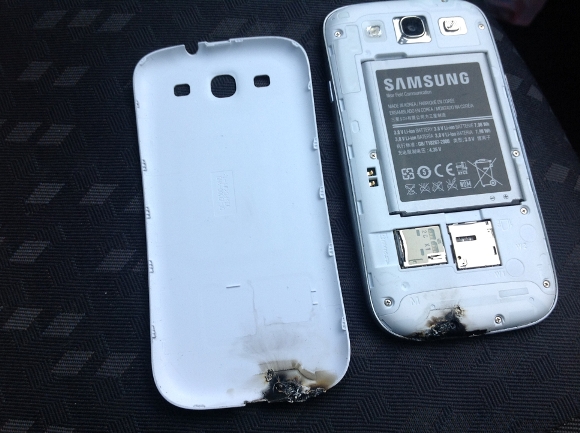 He had placed the smartphone in a car mount and then suddenly the smartphone burst into a white flame like a cracker.

This is what he said "So I driving along today with my Galaxy S3 in my car mount when suddenly a white flame sparks and a bang came out of the phone. I pulled in to look at my phone, the phone burned from the inside out. Burned through the plastic and melted my case to my phone. The phone kept working but without any signal. I brought it to the carphone warehouse and they told me that they couldnt replace it for me that they had to send it off to be checked out first. No even replacement phone, left with nothing. The phone was destroyed and it slightly burned a piece of plastic on the inside of my car."
Looking into the matter, Samsung has given a replacement unit to the guy and has also promised some free stuff.
Samsung also issues a statement saying, "Samsung is aware of this issue and will begin investigating as soon as we receive the specific product in question. Once the investigation is complete, we will be able to provide further details on the situation. We are committed to providing our customers with the safest products possible and are looking at this seriously."