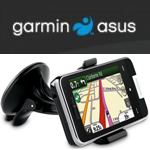 Garmin-Asus has launched a new smartphone nuvifone M10. The M10 is a full-touchscreen powered by the latest version of Windows Mobile. The M10 has a sleek design with a 3.5-inch WVGA display and a finger-friendly user interface. The Billboard feature displays the most important information so users can review all at one glance. An intuitive 3D Task Manager also allows users to switch easily between running applications. Keeping the phone responsive and the navigation smooth are a 512 RAM and 512 ROM.

The Garmin-Asus M10 boasts a range of social capabilities, including access to Facebook and Picasa Web Albums. It also places real-time information on connected services such as weather, flight status, currency exchange and friend finder, Ciao, at users' fingertips. In addition, the M10 is equipped with a high performance 5MP camera that automatically Geo-tags photos so that users will always know where they were taken and can share them with friends via Facebook and Picasa. 

It comes with preloaded mobile navigation from Garmin. It has preloaded maps and provides voice guidance in Hindi and English.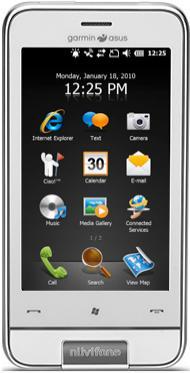 Features of nuvifone M10

It runs on Windows Mobile 6.5.3 Professional

3.5″ display with Resistive touch

5 MP Camera

Qualcomm GPS (AGPS supported)

Standby Time : up to 600 hours (3G / 2G)

Talk Time : up to 8 hours
The Garmin-Asus M10 is available at Rs.19,990 in stores at New Delhi, Mumbai, Bangalore, Kolkata, Chennai, Hyderabad and Pune.