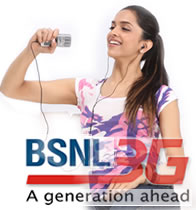 State operator Bharat Sanchar Nigam Ltd (BSNL) reduces the price its 3G Data Card) from Rs.3500 to Rs.2500.The operator also offers free data transfers up to of 6 GB per month (One GB at Day time and 5 GB Night Usage) for 2 month on the purchase of Data Card from BSNL.

Recently BSNL crosses One Million 3G GSM Mobile and Data service subscriber mark and offers it next generation 3G services in more than 370 cities across India.

BSNL offer 3G Wireless Broadband services with speed up to 3.6 Mbps and 7.2 Mbps (depends on device) for the prepaid and postpaid subscribers, with the attractive Limited and Unlimited 3G data tariff plans starts from Rs.249 to Rs.2499.For More details Visit BSNL CSC or call 94000-24365.