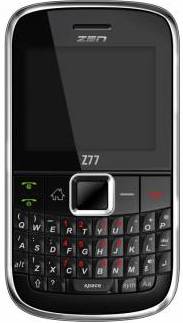 Recently I got the opportunity to review Zen Mobile's QWERTY phone Z77.
I have reviewed this phone extensively for 3 weeks and my following review is based on that.

Appearance:

This phone looks like a blackberry phone right from the colours used in the keypad and rear panel.Inspite of being a QWERTY phone its very light weight and bears a sturdy look which is the main plus point of this handset.It has a 2.2 inch LCD screen which makes it very spacious to view menu and sub-menu items easily.The QWERTY keypad of this phone is little compact but it doesnt affect messaging on this phone.The keys of QWERTY pad are edged so it gives room to locate every key when messaging.The charging jack supports micro usb port which is a very common and standard form of charging nowadays.Most importantly this phone has a 3.5 mm handsfree jack which widely supports almost all types of musical equipments.The handsfree kit provided with this handset is also of good quality and stylishly sleak.It supports 2 GB micro sd card and the slot is located next to simcard slots.It would have been great had they provided micro sd card slot on the left or right side edge of this phone for easy removing and installing.
Rating: 8/10

User Interface:

The interface of this handset is very spacious and clear.Navigation on this phone is very easy as the menu is well organized.The phone responds at the tap of a key thus making navigation fast.Its a dual sim phone so user has the choice of using two gsm simcards at the same time.However when on a call other simcard becomes inactive but both cards are active on standby mode.No dual gsm phone in market supports two way active calling at the same time,same is the case with this phone so I cannot say that its a drawback of this phone rather its the limitation of technology.The phone supports motion sensing.We can easily change tracks from audio player by just shaking it.A dice game is also present in this phone which is based on the motion sensing technology.
Rating: 7/10

Performance:

I have made this phone go through a very heavy usage to check battery performance and other factors like durability and reliability.The battery backup of this phone is not very great as I had to charge the phone every single day without fail.The battery didnt even last for 24 hours.Nowadays battery backup is the most important thing in a phone so this phone somehow falls short of delivering a good backup.Other features like java and gprs were also tested by me and they were upto the mark.This phone supports gprs and comes preloaded with opera mini browser which makes internet navigation very easy but I still feel edge facility would have given the required boost to the phone.All java applications are supported on this phone.To name few I have tried and tested Nimbuzz,Ebuddy,Opera Mini 5,Google Maps,Oxford Dictionary,Pdf reader and many more.There could have been the facility to minimize java applications but sadly its not present in this phone.The speaker quality of this phone is quite good.There was never a crack or distorted sound during calls.Overall this phone comes out clean where performance is concerned when we take into account the price of this phone.
Rating: 7/10

Multimedia:

The 1.3 MP camera of this phone take good pictures during daytime but fails miserably at night.The pixel quality deteriorates at night but we cant ask for more in a 1.3 MP camera phone.The camera comes with a set of features like changing the white balance,EV effect,frames and it also gives the choice to select image size of our own choice.Now speaking about the audio player,its simply excellent.The sound quality through handsfree is crystal clear and has the required bass effect as well.The EQ presets adds to the glory of this audio player.No lag was found multitasking during sound playback.The phone also supports video player but I was not able to play 3gp videos smoothly on this handset.The video cracked for all 3gp files.However the videos recorded on this phone with its video recorder played without any problem.FM radio reception of this phone is also quite good.It further supports FM recording and the handsfree acts as an antenna during FM playback.The Bluetooth v1.1 of this handset works like any other phone without any problem.
Rating-7/10

So to sum up this phone has almost everything and that too at a price tag of just 3,300/- INR.Fortunately this phone has more pros than cons which makes it a winner among low end handset users.This phone is primarily targetted towards the low budget consumers wanting a power packed mobile in less price.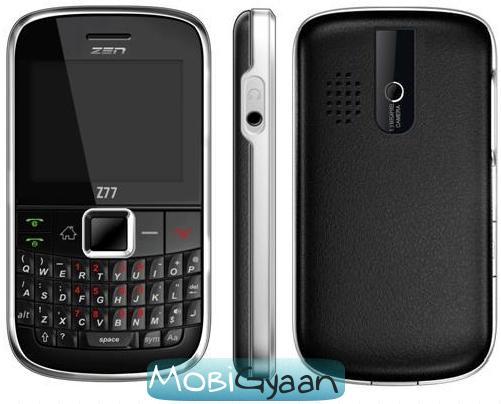 Following are thr pros and cons in this handset:

Pros:
Great music player with 3.5 mm jack
Clean user interface with no glitch at all
Supports Java applications
QWERTY keypad for quick messaging
Good FM reception

Cons:
Poor camera quality
Average battery backup
Doesn't play video files properly.