While the GDR3 update is expected to bring a fresh wave of change for the Windows Phone platform, until now we had no idea what to expect with the update and now we have the first glance at the update.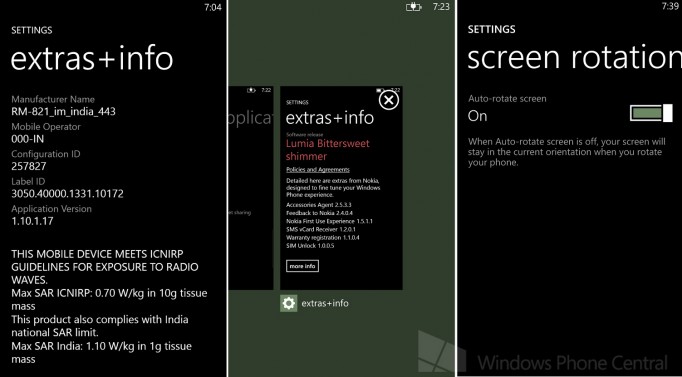 According to sources, the details of the GDR3 update and the Bittersweet shimmer have been revealed, giving us a first look of what is yet to come. With the new GDR3 update, Windows would add support for 1080p displays, which are expected to be seen in the upcoming Nokia Lumia 1520. Similarly faster processors, like the Snapdragon 800 processor, would be supported with the update.
With the GDR3 update we would get 3 medium or 6 small tiles on a row for phones with screen resolution higher than 1280 x 768. The active apps can be immediately killed by just tapping on the X on the top right. There are also new custom tones for text or IM, voicemail, email and reminders.
A new addition in the GDR3 update is the screen rotation lock which makes the screen stay in the current orientation when you rotate your phone. The driving mode turns off all notifications except texts and phone calls and further can be used to automatically reply to calls and messages. You can now connect to Wi-Fi in OOBE when switching on your new phone for the first time before connecting to cellular data.
The Bittersweet shimmer also has a lot of enhancements which include notifications in glance screen similar to the notifications on the lock screen. There are as many as 20 colours to choose from for night mode. You can also choose whether to keep the glance screen always on when charging. Other than that we also have new apps like the Nokia Camera and Storyteller app.