Get Cricket scores, highlights and more on your mobile for Free while in Stadium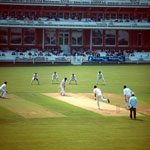 How good it would be if while watching the Cricket Match in the Stadium you can view highlights, detailed score card, statistics and match analysis on your mobile without using GPRS. It will be great isn't it? And what if I tell you that you can get all these at no cost, I know it will be awesome.
TELiBrahma Convergent Communications, a mobile soulution company will make it happen. Cricket fans at the stadium will receive updates as interactive menu on their mobile upon activating the Bluetooth connectivity on their mobile phones. This menu would be delivered at regular intervals ensuring users having access to real time and updated content.
Using the Interactive Brochure users would be able to
View highlights and detailed scores from the match

Download and view videos of replays, wickets, runs scored and others from the match

View detailed statistics and analysis
All this would be made available to fans visiting the cricket match at absolutely zero cost without the need for GPRS. Ability of viewers to view the video and analysis on demand would not only bridge the gap between watching the match in television and stadium, but would take the experience to an all new height as users control the experience themselves.