MTS launches its mobile services in Delhi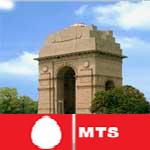 MTS has launched its services in Delhi-NCR (We earlier reported that MTS will launch in Delhi on 8th October) MTS is offering its Delhi subscribers the tariff plan Power of One with per second billing and announced availability of MTS mobile high speed data services in Delhi in October.

For the first time in the Delhi mobile telecom market MTS has made available for NCR customers the tariff plan Power of One with full talk-time for life, plus 1-second billing, and local calls at just 1 paisa per second. Within the plan STD calls will be charged at 2 paisa per second. Full talk-time will be available on MTalk, on all recharges including even mini-recharges of Rs.10 and Rs.20. Moreover, customers can also choose to get 50% off on local calls, 50% off on STD calls, and 100 SMSes every day, at Msaver rentals of just Rs.1 per day for each. MTS is also offering 10,000,00 minutes of talk time free through the MCard.