Idea (Rajasthan) launches Super Seconds Plan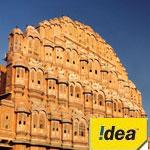 IDEA Cellular Pay Per Second tariff plans in Rajasthan. IDEA subscribers opting for the new 'Super Seconds' tariff plan will now be charged just 1 paisa for every second of the call duration. IDEA's 'Super Seconds' tariff plan will offer all Local and STD calls on any network in India, at the rate of 1 paisa per second. Existing IDEA subscribers can avail the per second plan by purchasing 'Super Seconds' voucher for Rs. 24, whereas new subscribers can avail it for Rs. 55.

Idea subscribers may also go for 'Super Saral'plan which allows its subscribers to make Local calls at 40 paisa per minute, and STD at 60 paisa per minute on any other mobile and landline network in the country. To avail these new reduced tariff plans, existing IDEA prepaid subscribers can purchase 'Super Saral' for Rs. 23, and new subscribers for Rs. 60.