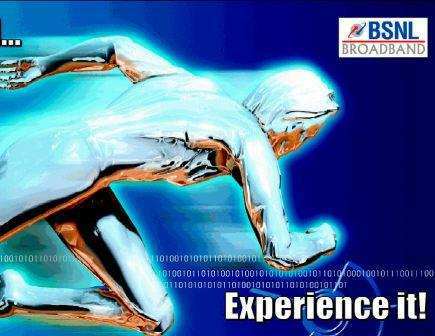 BSNL has introduced a new FREE service for its Broadband Users in which a BroadBand subscribers can get his/her broadband usage details on their mobile phones through SMS. The Web Registration for Broadband Usage Alerts of your BSNL Broadband connection is available at http://bbusage.bsnl.in. This service is valid for both old and new customers of BSNL having Broadband usernames with underscore '_' and at the rate '@' sign. The SMS alerts will come every week giving you brief details about your Broadband usage.
You need following details for getting usage alerts like your Telephone Number with STD Code, your Broadband Username, Your Mobile Number and an Email address. Now you can keep check on your hefty broadband bills.The service launched by BSNL is still in Beta phase and we hope that BSNL will provide BB details on Mobile 'ON Demand' in coming months all over India.
You can also get usage stats on-demand on your mobile phone. Send SMS to +919447051550 with the keyword BBUSAGE. The service will be available after your registration has been accepted at http://bbusage.bsnl.in/. To de-register send email to [email protected]. from your registered mail ID.
This service is beneficial for those BSNL users who wants to track the usage of their limited broadband plans like Home 125, Home 199, Home 250, Home 299, Home 350, Home 500, Home 500 C, Home 50s0 C+, Home 1000, Home 1800, Home 3300, Combo 599, Combo 749, Speed Combo 1111, Business 700, Business Combo 1000, Business 1200, Business 2000, Business 3000, Business 4000, Business 5000, Business 9000, Business 15000, Rural 99, Rural 150, 8 Mbps Combo 2799, 16 Mbps Combo 4999and 24 Mbps Combo 8999. The more details regarding each Broadband Plan can be obtained at http://www.bsnl.co.in/service/dataone_tariff.htm.