Recently in the budget 2012, the Finance Minister of India announced an increase in the service tax by 2%. And now you may be wondering why we are so much concerned by it.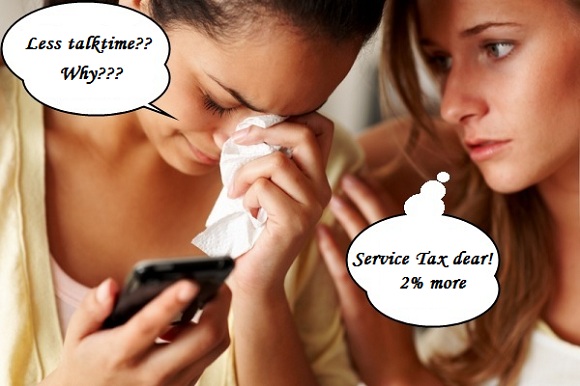 Right! The reason behind it is that with the increase of the service tax by 2% the service tax now stands at 12.36% as the previous 10.3%. Now with this prepaid mobile users will get a little less talktime whereas postpaid mobile users will have to pay a little more of the bill.

Earlier if prepaid users went in for a recharge of Rs. 50 for say in the case of BSNL, they used to get a total talktime of Rs. 43.33. But now with the increase on the service tax they'll get a talktime of Rs.42.50. 
 
Now you may be wondering that it is only a difference of less than a rupee from the previous amount. But when any BSNL user will go in for a high value recharge of say, Rs. 500 then he/she will only get a talktime of Rs. 445 instead of the previous 453.12. So now the difference increases and the user get Rs. 8 of less talktime. 
 
Well now we have nothing to say about the increase except that users of all the mobile operators will now have to adjust with the increase in the service tax and always lookout for a full talktime offer. But not to worry as we'll keep you informed if any operators launches any of it. 
 
Till then check out the full list topups from BSNL and the new talk value they are carrying, over here.