WhatsApp has rolled out an update that adds a quick reply from the notification bar on Android. The WhatsApp quick reply lets you reply to your contact in no time. That means you can easily respond the messages from the notification bar instead op opening the WhatsApp application every time. To get WhatsApp quick reply on Android, follow this short guide below: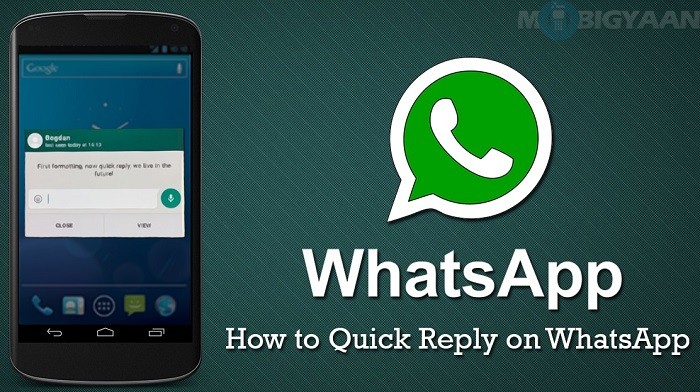 The new update also brings the bold, italics and strikethrough texts feature. Want to know how to add text in bold, italics, and strikethrough on your WhatsApp? Read our guide.
How to get WhatsApp quick reply on Android
Before gettings things started, first of all, update your WhatsApp from WhatsApp.com. The update is in BETA stage, so you have to download the WhatsApp APK file manually and install it. Once WhatsApp releases the version 2.16.15 on Google Play Store, you can easily download it from there. Same applies for iPhone users.
Step 1: Swipe the notification panel from the top, you will see a reply button. Tap on it.
A popup will appear over the screen something similar to Facebook Messenger's chat heads without interrupting any activity that you are currently doing on your phone. The popup shows a text message that you've received.
Step 2: Type the text message you want, and tap the Send button to send the text. The quick reply feature also supports voice reply. Before you type the text, the send button will remain the microphone button.
Moreover, the popup has three options, with a text box – Reply, View, and Close. You can either reply from there directly, or you can close the popup by tapping the close button. If you want to view the full message, tap the view button.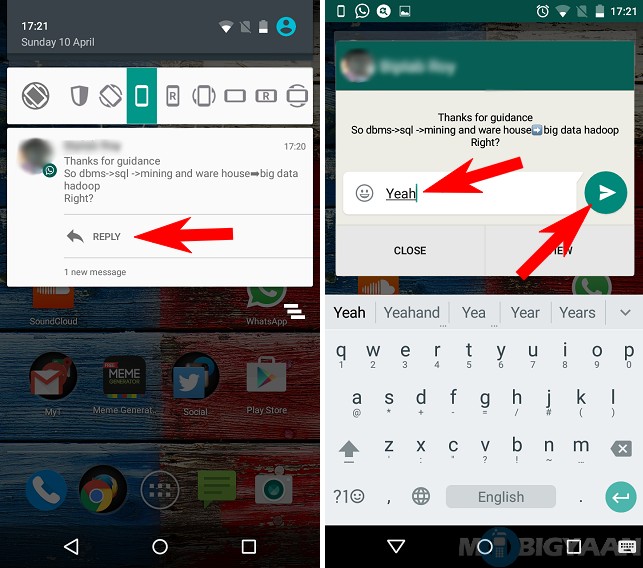 For now, the quick reply doesn't support viewing the images, you have to open the full application to view the images. Also, you cannot add images but the feature is limited to text and voice reply. To send the images and videos, you have to again open the application and do it as usual.
To get this new WhatsApp feature remember to update WhatsApp to the latest version. If it still doesn't work for you, let us know in the comments to help you.
There are more interesting guides available on our How-To Guides.