Android P developer preview is here and we managed to install it on the Google Pixel 2. There are a whole lot of hidden features that aren't mentioned in the official blog, here's a list of Android P features that you will see in the upcoming Android P update. They are based on the first developer preview Google has released earlier.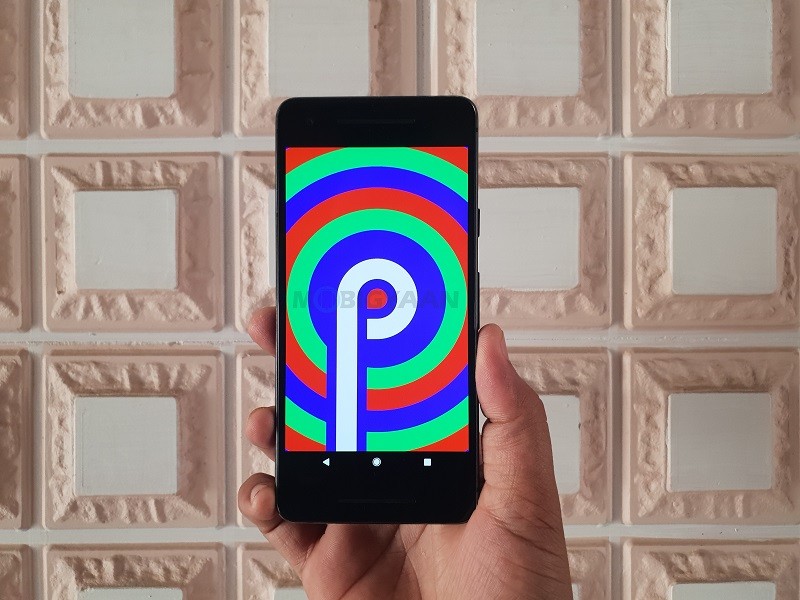 1) Notch Support
Android P will support screen cutouts natively similar to how the iPhone X carries a notch. The latest update of the Android P will add a notch for housing cameras, speakers, and other stuff. The ASUS ZenFone 5 is the first Android smartphone that started off with a notch at the top. With the native support, smartphones can easily accommodate such hardware design in the future.
The notch can be emulated from the Developer Options, here's a screenshot.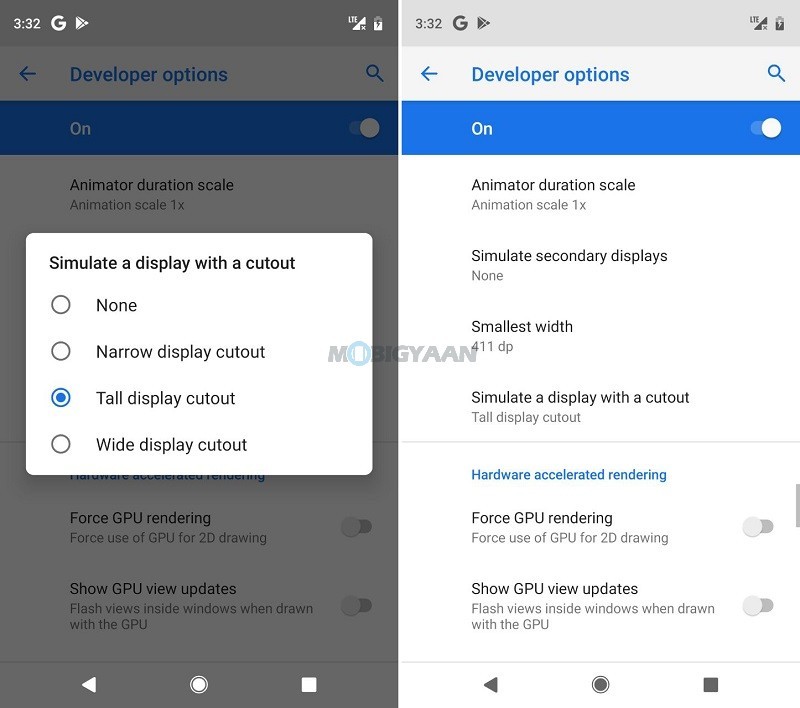 2) Notification Panel
One of the visual changes noticeable on the Android P is the notification panel. Android P is already showing a new interface of the notification panel with rounded corners, new colors, icons inside the circles, and notch friendly notifications.
3) Smart Replies
Smart Replies are the automated responses that appear in the notification panel for replying quickly to contacts. If you receive a message and a notification pops up, you will be shown suggestions based on the message you receive. Take a look at the image below.
4) Inline Photos
This simply means that the notifications will now get a preview of the images. For example, you receive a photo on a messaging app, you can view it directly without opening the actual app.
5) Screenshot Editor
Android never really offered any editor for editing the screenshots. While it can be edited from the Photos app, many other phones with customized Android had it. Now with the Android P, a Markup editor will be added as a native screenshot editing tool. An edit option will be shown in the notification panel after you take a screenshot.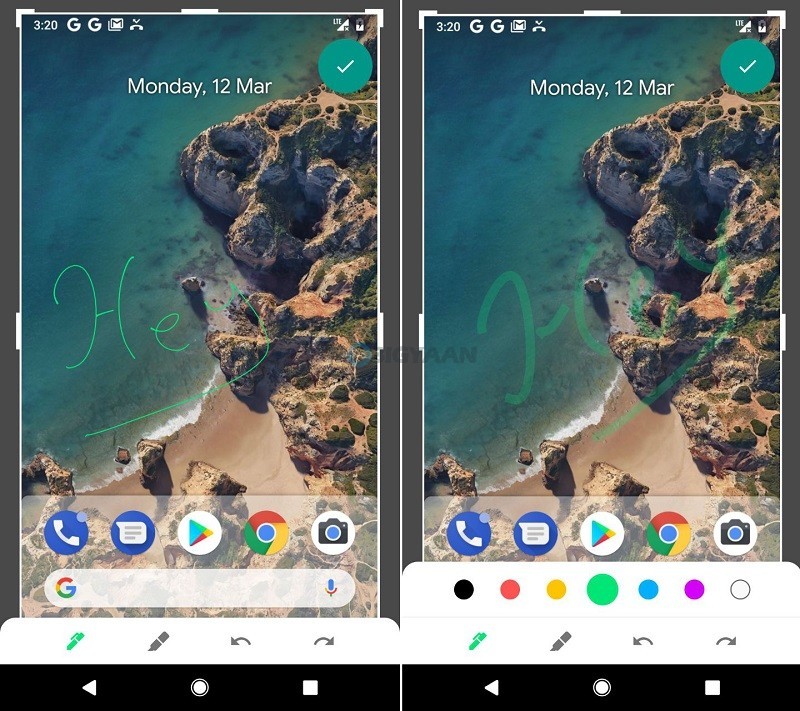 6) Colored Icons In Settings
The Settings menu is now colored, meaning the icons associated with the particular settings are now colorful and a small revision to the search bar.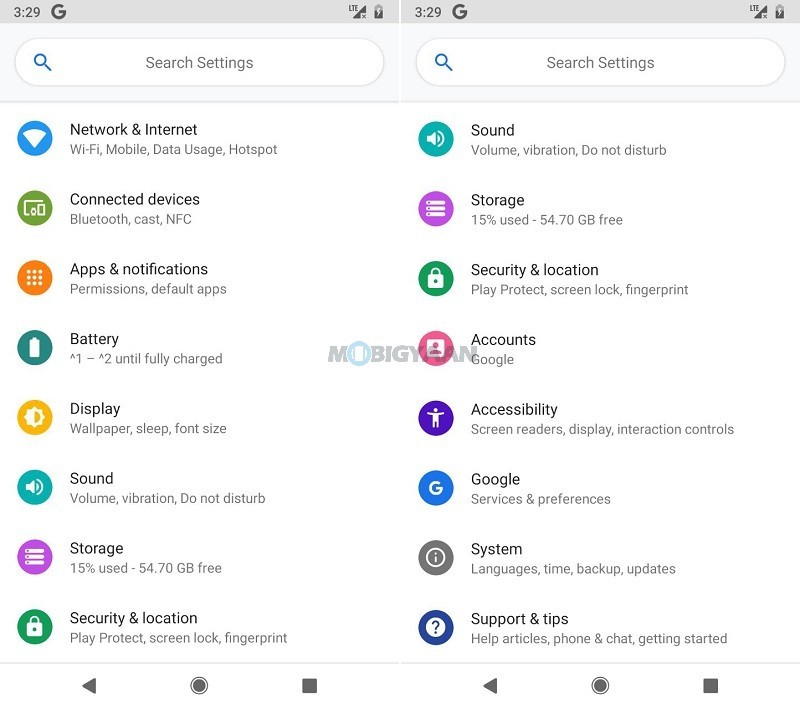 7) Time Moved To Left Side
This is, however, a tiny update, the time has moved to the left side in an effort to accommodate the notches.
8) Supports New Wi-Fi Protocol For Indoor Maps
A new location system is added to Android P for more precise indoor positioning. Since when Apple added indoor maps support on iPhones, we are seeing this on Android as well soon via a new Wi-Fi protocol known as Wi-Fi Round-Trip-Time (RTT).
Google has added support for IEEE 802.11mc which allows apps to measure the distance to nearby Wi-Fi access points and determine your exact indoor location.
9) Supports HEIF File Format (as seen on iOS 11)
I wasn't aware of this new format until I got my hands on with the iPhone X and when it started snapping images in HEIC file format replacing the JPEG. With the release of iOS 11, Apple added HEIF image compression support which is claimed to store as much information as JPEG or slightly better with the same size. Android P also supports this format eventually saving more space on the phone and offer better quality images as compared to JPEG.
10) Zoom Lens For Text Selection
Similar to Apple iPhones, Google has also added a zoom tool which lets you view your selection. It also comes with some third party interfaces such as Sony Xperia UI. It offers a better look at what we are typing especially on smaller screens. A rectangle-like magnifier lens appears when you touch and hold on your text selection and swipe the cursor.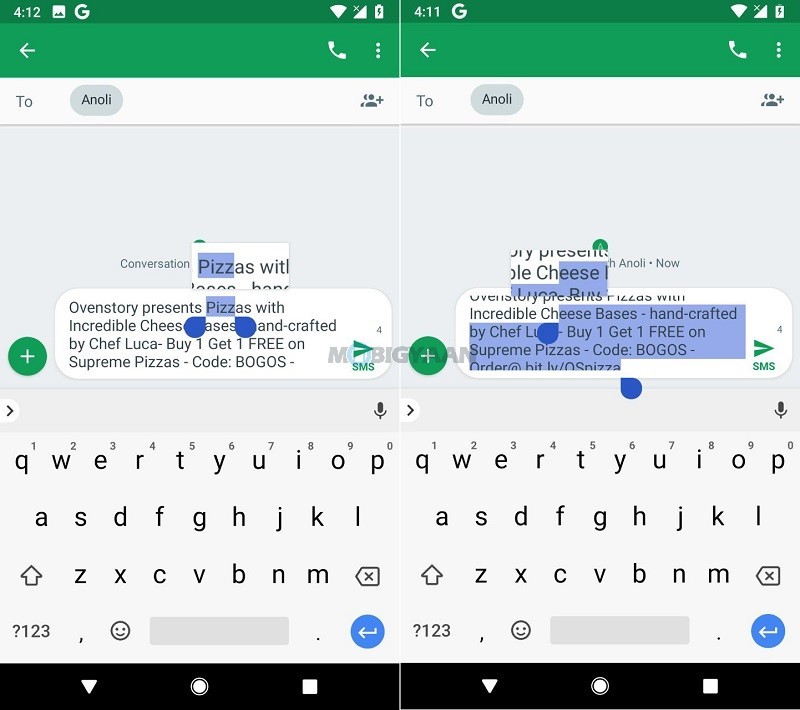 11) Shaded Pixel Launcher
The Pixel launcher wasn't transparent until now, the new Pixel launcher will be partly transparent in the upcoming Android P. It also integrates the Google search with a mic on the Home screen.
12) Power Menu Adds Screenshot Option
This isn't new to us, you might have seen this feature on some phones. Third party manufacturers with their custom interface or skin had this feature present for a long time. Now it's a native feature that comes starting from Android P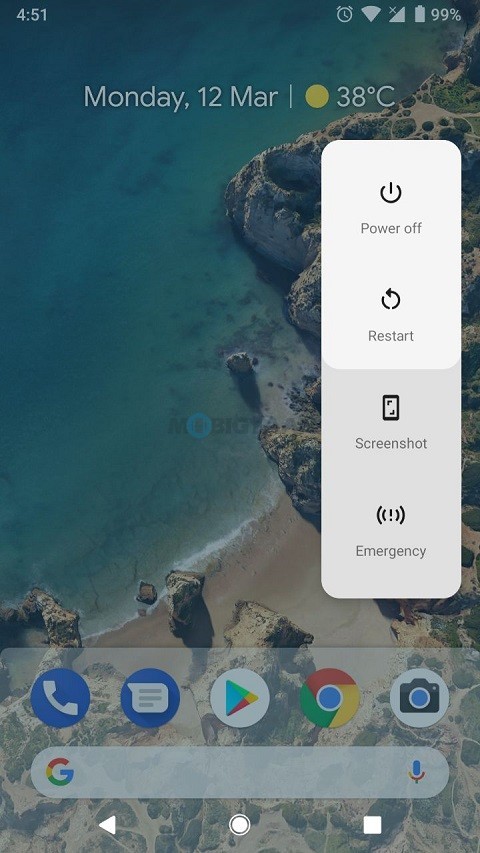 13) Vertical Volume Slider
The volume control which was previously seen horizontal is now repositioned to the side of the screen. Google has moved the volume slider near the physical volume buttons. Same with the Bluetooth devices' volume, it can be accessed conveniently.
That's all we know, these are the 13 features of Android P that you will soon see on your Android once Google releases it. If you think we have missed some features, drop them in the comments below.