There are many people who don't like to wake up to that same old, boring sound of the alarm daily in the morning. More so if you are not a morning person. But, with the latest update to Google Clock app for Android, that won't be the case as the app has been integrated with the world's most famous music streaming service – Spotify.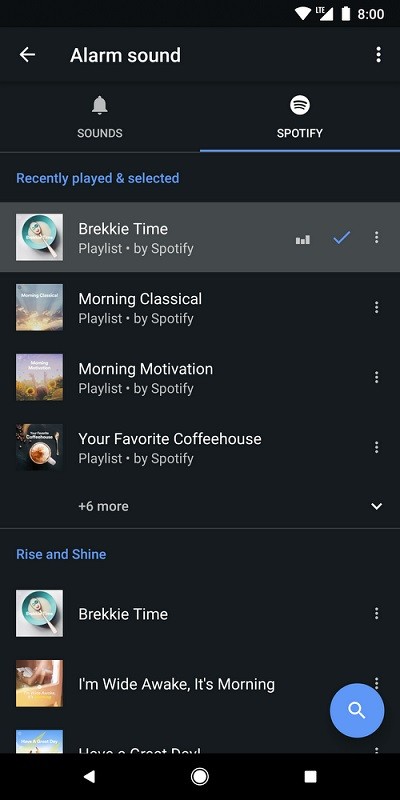 Google has announced that the Google Clock app has been integrated with Spotify. What that means for you is that you no longer have to wake up to boring alarm sound in the morning. Instead, you can now wake up to your favorite tunes on Spotify.
To be able to set your favorite Spotify music as an alarm sound, make sure that the latest version of both the apps – Google Clock and Spotify – is installed and connected on your device. Once done, you can head over to the 'Alarm Sound' section where you will find two tabs – Sounds and Spotify. From the Spotify tab, you can choose the music you want as an alarm sound.
The Spotify tab will show the music that you played recently on Spotify. Moreover, it will also show a curated playlist in addition to a search bar at the bottom-right corner which lets you search for your favorite music on Spotify.
Once the alarm goes off, and you turn it off, you have the option to continue listening to Spotify. This feature will be rolled out globally this week on Play Store and will be available on all devices running Android 5.0 Lollipop and above. Moreover, it will be available for both free and premium users of Spotify.
Some of you might be wondering if Google's own services like Play Music and YouTube Music have integration with Google Clock or not. Well, they don't, which is weird and surprising. However, Google has confirmed that YouTube Music will be integrated with Google Clock in the future. But there's no word on the time frame, so until then, you are better off with Spotify.
Download Link: Google Clock | Spotify