We knew that it was coming and it is already here. Android 4.1 Jelly Bean in all its glory. Unveiled at the Google I/O, the latest iteration of the Android OS, packs on loads of new and better features. This update is not a major one, thus lands with the version 4.1 on its name.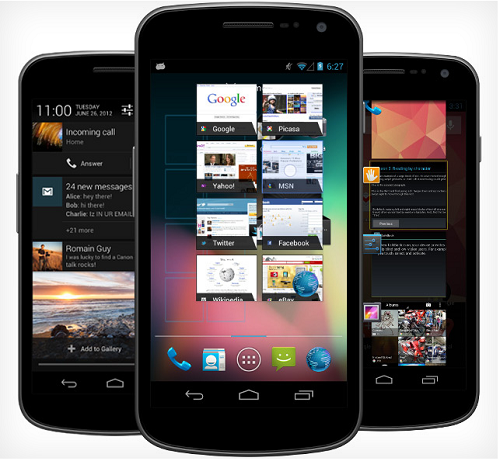 We have summed up all the important stuff you need to know about the Android update so that you conveniently make a note of what are all the new features that you have to wait for until mid-July when the updates start rolling out.


Project Butter
Project Butter makes the User Interface on the Android 4.1 Jelly Bean devices just as smooth as butter. Yes, the team at Android has successfully accomplished a tedious task and has optimized the system wide frame rate to 60 FPS (frames-per-second) which will make using the OS, super fast by introducing VSync for triple buffering for more consistent frame rendering.

Widgets can now be realigned on the homescreen and they would automatically resize according to the space that the widget senses is available around it. Also a simple flick gesture upwards, would make the apps go off the homescreen.
Google has improved the text input with Jelly Bean and has included a predictive input with the keyboard, which suggests the next word that you might want to write automatically. Google has also announced support for 18 new languages which will be added to the keyboard including Hindi, Hebrew and Arabic to name a few.

The Google Voice Typing can now also be used in the offline mode. Now this would be a boon to all the users who used slow internet or do not have access to the internet at a given time.

Not letting the blind user feel neglected, Google has announced that it is adding support to Braille language to the OS and also new gestures have been added to allow the users to navigate the device easily.
Android Beam will now allow Jelly Bean users to transfer data including videos via NFC. Also users will be able to pair any NFC-enabled Bluetooth device by just tapping it.
Improved Notification and Search
Google has also announced that the Notifications on Jelly Bean are much more improved and have got a facelift. Users can now make a call from within the notification and also view multiple emails from different apps, all in one place. Also, apps now have greater access to the notification shade as they can be expanded by dragging down with two fingers.

Google has also revamped the Search experience in the new update and introduced Knowledge graph inside the search. The Voice Search feature is now supported by a nice and sweet guided female voice like Siri or S-Voice but it is much more realistic and nice.
Google Now is a new feature from the search engine giant which uses all of your Google search history, location and calendar to automatically give relevant information. For example, if your favorite team is playing a match, Google Now will notify you with the latest on them because it will know what your favorite team is from your search history.

Also Google Now will let you know if you flight is delayed, how far is the airport, it'll remind you when to leave and how long would it take you to reach your destination. All in all a service to keep you on your toes with the clock.
So these are the major features that will be arriving with the Android 4.1 Jelly Bean update which is expected to roll out in mid-July and initially arrive on the Galaxy Nexus and the Motorola Xoom by OTA update initially.

Impressed or not? Shoot your view below.