When we are out, going somewhere we have never been, it's common that we find it difficult to reach the destination without asking for any directions. Be it your own city or another country, getting the right directions to reach your destination can turn out to be a daunting task. Well, the need to ask directions has reduced because now everyone has smartphones with Internet connectivity, and hence, we can make use of Google Maps to find directions without having to rely on anyone.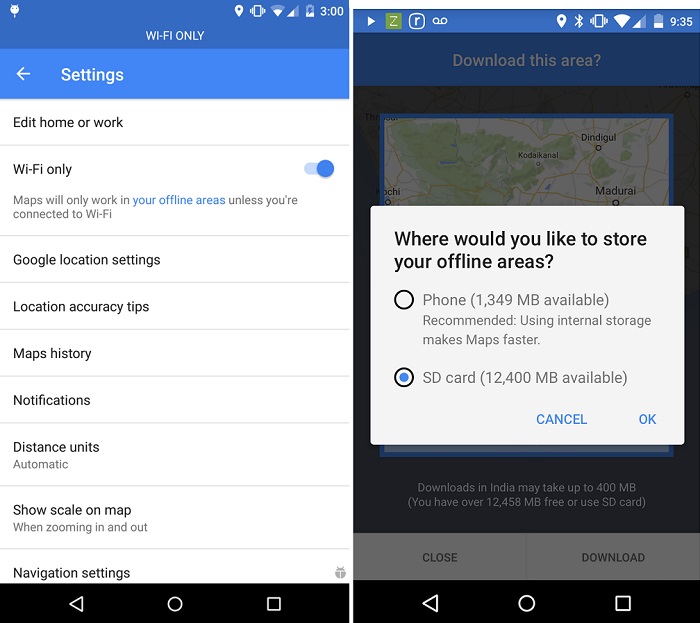 However, even with Google Maps, users can find it difficult to get directions because Google Maps relies on Internet connectivity to provide directions, and, it's easier to loose Internet connectivity if you don't have network coverage.
Well yes, we can always download the maps on our smartphones for offline access. But again, downloading maps means having to delete your photos, videos or favorite music tracks if your smartphone doesn't have enough internal storage. Hence, Google has decided to ease things up by letting users download the maps and store them on the SD card of your device.
Google will not only let you download maps on your SD card, but, if you have limited or no access to mobile data, you can turn on the "Wi-Fi only" option to use Google Maps entirely offline.
"To ensure that Google Maps users with any storage capacity can download and use offline areas when they need them most, we've added the ability to download your offline areas to an external SD card (if your device supports them) on Google Maps for Android. Now you'll never have to choose between snapping more food photos or the ability to navigate offline." said Amanda Bishop, Product Manager, Google Maps.
So, if you have an Android device which supports SD card, you can download the offline maps directly on your SD card so that you don't end up with less internal storage.
Download Link: Google Maps for Android