Until now, Gmail users were able to send different kinds of files through email like photos, PDF, Word files, Excel sheets and more. Well now, users can send money as well through Gmail. Rather, not just send money to others, but, they can also receive money.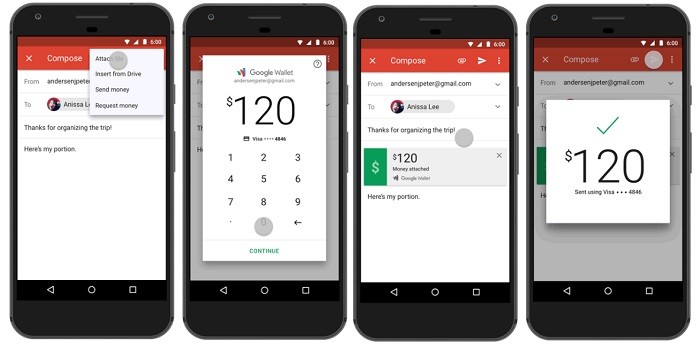 Gmail already lets users send money through the web interface, however, starting today, users can send money from their Gmail app on Android. Sending money from Gmail for Android is as simple as sending an attachment. You just tap on the attachment icon while composing an email and then tap on the "Send money" option. After that, you enter the amount, tap on Continue and hit the Send the button. This not just works for recipients with the Gmail addresses, but, you can also send money to those who don't have a Gmail address.
Similarly, you can also request money from within the Gmail app on Android. Also, what's cool is that recipients can request for money or receive money without having to install any third-party app on their Android device. Besides, if they want, they can directly transfer the received money into their bank.
"You can already reliably and safely share photos and files on the go with Gmail. Starting today, you can share money, too. Whether you're splitting a dinner bill or planning a group trip, you now have a fee-free way to work out the details and settle up without ever leaving the Gmail app on Android, just like you can already do on the web." said Sam Kansara, Product Manager, Google.
This feature is completely free to use, whether you send money or receive it, but, it's only available on Gmail on web and Android for the users in the US. There's no word from Google on the availability of this feature outside the US.
If you happen to live in the US, you can check out this feature, however, do make sure you have updated the Gmail app to the latest version from the Play Store.