Google officially rolling out Instant Tethering feature to Nexus and Pixel devices
The Instant Tethering feature, which was rolled out to some users of Nexus and Pixel devices last month, is now officially being rolled out by Google.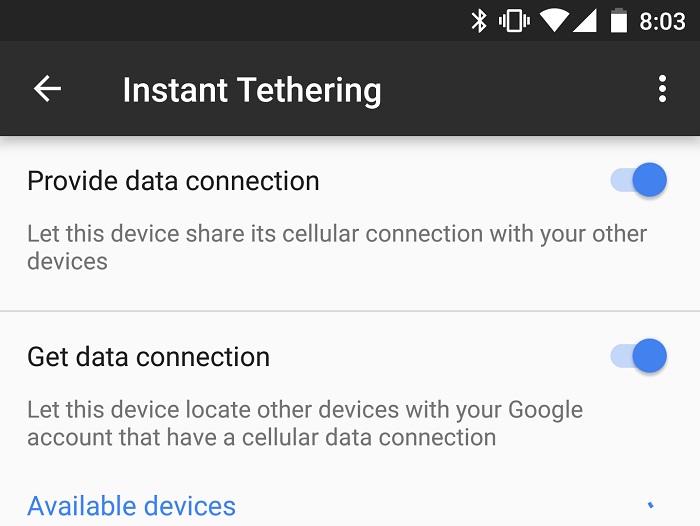 With Instant Tethering, devices can communicate with one another via Bluetooth and automatically share cellular data connection among themselves by turning on hotspot on one of the communicating device. However, this would only happen if both the devices are signed in to the same Google account.
Phones that can automatically share their data connections:
Pixel
Pixel XL
Nexus 6
Nexus 5X
Nexus 6P
Phones and tablets that can automatically use shared data connections:
Pixel
Pixel XL
Nexus 6
Nexus 5X
Nexus 6P
Pixel C
Nexus 9
All the devices mentioned above that can automatically share their data connections should be running Android 7.1.1 Nougat and above. And, all the devices that can use shared data connections should run Android 6.0 Marshmallow and above.
"When you unlock a tablet such as the Pixel C, it will notice if there is no internet connection available, and will ask your Pixel phone if it has internet and battery life. If it does, we will give you an option to enable a secure hotspot and pair automagically, without even taking your phone out of your pocket. When you are done, if you don't disconnect, we will notice that you stopped using your tablet and we will disconnect the hotspot for you to save your precious battery throughout the day." explains Omri Amarilio, Product Manager, Google.
You can enable Instant Tethering by going to Settings > Google > Instant Tethering. Check out this support page to know more.