Google finally unveiled the much awaited Android Wear 2.0 two days ago. This is the second iteration of Android Wear which was first unveiled way back in 2014. The launch of Android Wear 2.0 kept delaying since last year, but, it's here, currently available on two new LG smartwatches – the LG Watch Sport and LG Watch Style – which too were unveiled along with Android Wear 2.0.

The Android Wear 2.0 is not just another update, but, it does bring some really cool features with it. The time taken by Google in bringing this update to us seems justified at this moment. Also, this update comes at a time when manufacturers are putting their plans for new smartwatches on hold, and, the wearable market is getting eaten up by fitness bands. Like many others, if you too were waiting for the Wear 2.0, we are sure you must be interested in knowing what this update brings with it. Well, we have put together a list of what's best in this update.
On-Watch Play Store
Gone are the days when you had to rely on your smartphone to be able to use the apps on your smartwatch. With on-watch Play Store on Android Wear 2.0, Google has made it possible for the users to use the apps on the smartwatches without having to rely on their smartphone, be it Android or iPhone.
Not just that, with the on-watch Play Store, users can now download the standalone apps directly on the smartwatch. Of course, the smartwatch will need LTE or Wi-Fi connection to be able to do so. Also, there won't be any need to keep your smartwatch connected to your smartphone. As far it's connected to a Wi-Fi or has LTE functionality, the apps can be used without any dependence on the smartphone.
If your smartwatch has LTE, you can answer calls as well. Besides, you can also stream music through Play Music and achieve your running goals, all without needing a smartphone.
Google Assistant
Yes, Android Wear 2.0 comes with Google Assistant which is found on Google Home and Pixel devices. With Google Assistant on your smartwatch, it's now easier to check weather, search for some information, go through the menu of a restaurant or book a ride. To get things done by Google Assistant, you can activate it by either holding the power button of your watch or simply saying "Ok Google". Currently, the Google Assistant supports only English and German languages, but, Google has said that support for more languages will be rolled out soon.
Android Pay
Android Wear 2.0 also brings with it support for Android Pay which is Google's payment service. Given the fact that Google has to compete with not only Apple's Pay, but Samsung Pay as well, inclusion of Android Pay in Wear 2.0 makes sense. Not just that, it also makes sense because paying through your smartwatch is definitely way more easier than paying through your smartphone, which you would have to take out of your pocket every time you have to make a payment.
Also, making payments using Android Pay on your smartwatch is pretty simple. Just hold your smartwatch near a terminal and you would receive a transaction receipt on your smartwatch once the payment is done. However, in order to be able to make use of Android Pay, your smartwatch needs to have the NFC chip, and, among the new LG smartwatches launched recently, only the Watch Sport has it. That said, we will hopefully see more smartwatches coming with NFC chip, making it possible to make payments using the smartwatch. Also, more importantly, as this is a standalone feature, you will be able to make payments even if you are an iPhone user.
Improved Watch Faces
With Android Wear 2.0, watch faces aren't boring anymore. They have now become very useful as they can now display important information. First of all, these watch faces are always on. Secondly, thanks to the Complications API, users can now customize them to display the information they want.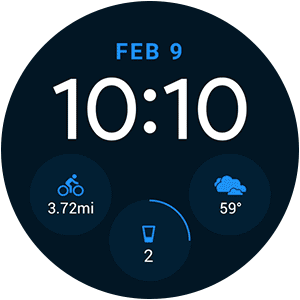 You can customize a watch face to display the information you want, apart from the usual date and time that's shown. You can customize different watch faces to display different information. For example, one watch face for the gym (which would show information like calories burnt) and the other for office (which would show the time of your next meeting). Also, switching between these smartwatches takes a simple swipe on the screen.
All this is made possible by the Complications API which would allow developers to show information from different apps on to the watch face. You, as a user, shouldn't be worried about the resulting design of the watch face after you tinker around with it as the Complications API will make sure that information added on the watch face suits its style.
Google Fit
It was time Google added some more value to smartwatches when it came to fitness tracking, and this time around, Google has just done that. With Google Fit on Android Wear 2.0, apps on the smartwatches will now be able to communicate with each other. The watches will measure and monitor activities like walking, running, cycling, push-ups, sit-ups and squats. Besides, all these kind of data gathered by Google Fit can be accessed by third-party fitness apps which would give you more insights and guide you through your fitness regime.
Messaging and Smart Reply
Typing messages on a smartwatch can surely be a difficult task, however, Google has eased it up a bit with Android Wear 2.0. Google now lets you type messages by swiping on the QWERTY keyboard. It has also added handwriting recognition, if you are into that thing. Besides this, you can always type your message by dictating it (speech-to-text) or draw an emoji if you want.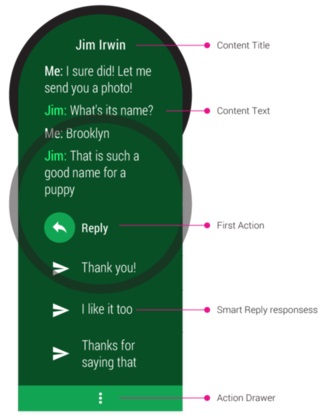 Apart from this, Google has also included the Smart Reply feature. The Smart Reply feature would present you with options which can be sent as a quick reply. These responses are offered by Smart Reply based on what it learns from your usage. This feature is also found on Google's messaging app Allo.
Design and Navigation
The UI of the first iteration of Android Wear wasn't up to the mark and felt complicated. Google has learnt from it and has made the design and navigation on the Android Wear 2.0 much better. Google has resorted to its Material Design and has made the overall theme much darker, making it easier on the battery as well. Google has also taken care of the notification system by adding rich notification style and inline actions.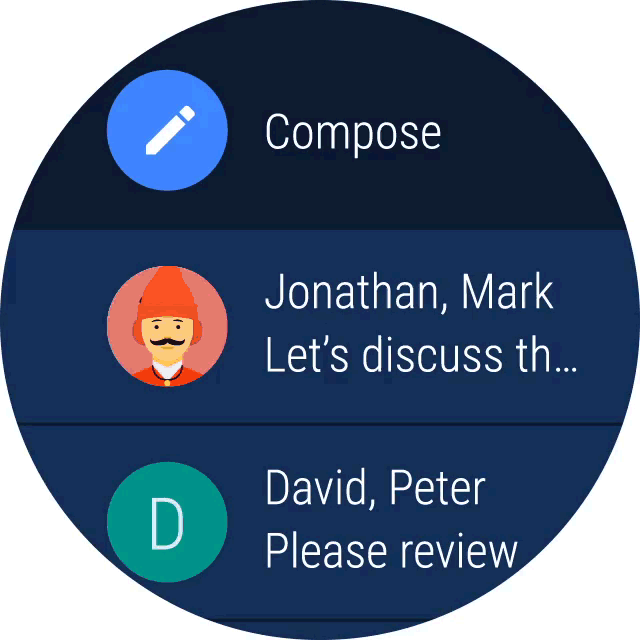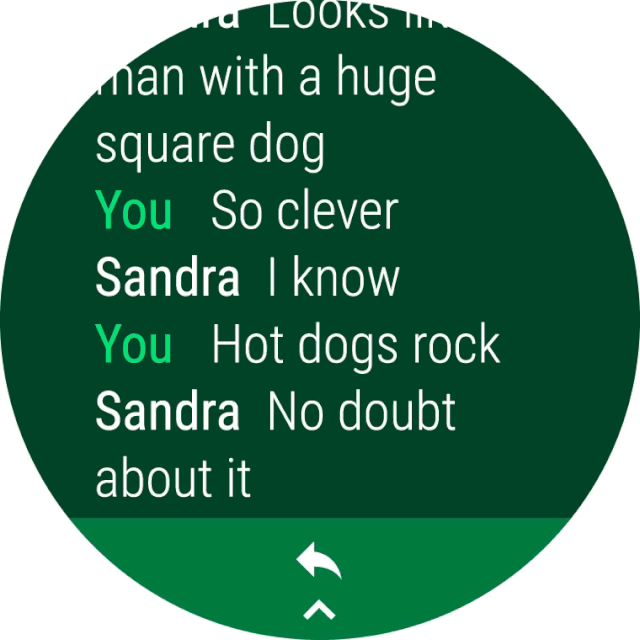 Speaking of navigation, there's a new menu now which lists all your apps, and, you can navigate across it by using either the crown of your smartwatch or the rotating bezel. For now, the only smartwatches running Android Wear 2.0 are the LG Watch Sport and Watch Sport, both of which boast a spinning crown. Well, if future Android smartwatches come with a rotating bezel, rotary input should make it easy to navigate across the smartwatch.
So, that's what the Android Wear 2.0 comes with. Do let us know which feature you liked the most. Also, check out this list of smartwatches that will receive the Android Wear 2.0 update and see if your smartwatch made it to the list.