While the Google Play Store has been seen any changes in the design for more than two years, may finally see some new fresh design. Though we still haven't got any such news before, the new design may be coming pretty soon.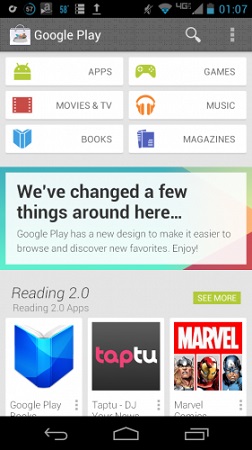 As per a screenshot posted on Google+ by Eileen Rivera from YouTube, a new refreshed version of the Google Play Store app was seen. The screenshot showed a more colourful design with larger icons for the categories. Also Games is a new added category.
Though it seems that the Googler's were given the redesigned Play Store to try, we hardly think it was meant to be display on social networking sites and hence the screenshot was quickly taken down. We will have to keep looking to see if the Play Store on our phones is due for the new update, because it doesn't seem it will take too long to be released now.