Google keeps on tweaking user experience of Play Store for mobile by rolling out new features. However, as is with other apps, Google too beta tests these features with select users before rolling them out to all the users around the globe. One such feature was showing an app's top charts ranking in its listing inside the Play Store on smartphones. This feature first showed up last year in October to some users, and now, it's being rolled out to all.
Top chart ranks of apps in their listing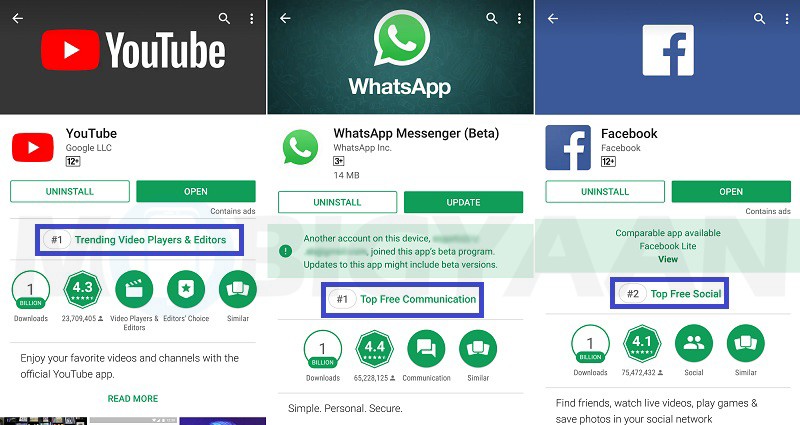 Now whenever you open an app's listing inside the Play Store on your smartphone (or tablet) that's in the top charts, you will be shown the rank of that app in the charts along with its category. For example, if you open the YouTube app's listing, you will see that YouTube has been ranked number 1 in the 'Trending Video Players & Editors' category. Same goes for WhatsApp which is ranked number 1 in the 'Top Free Communication' category, and, Facebook which is ranked number 1 in the 'Top Free Social' category.
However, it's worth noting that this ranking is only visible inside the Play Store on mobile. Google doesn't show it on Play Store for web (or desktop, as some may call it).
Having said that, we personally like this feature as it will help users identify how much popular a certain app is when they bump across that app's listing. Of course, those who are well-versed with the smartphone and Internet universe may not find this interesting, but those who are newly introduced to smartphones and stuff would certainly appreciate this.
Play Store is also showing the original date of release of apps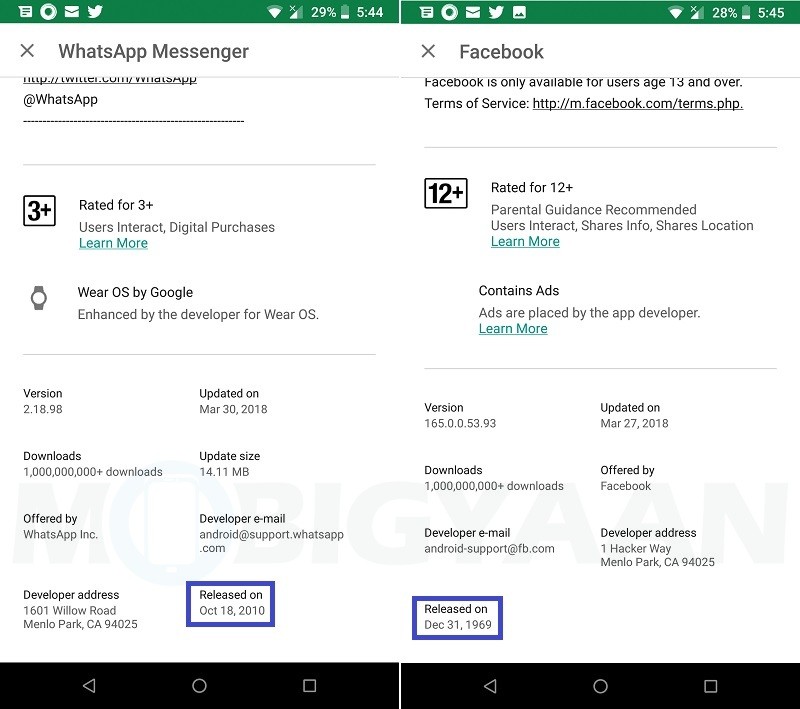 Well, another change that Google has introduced to the Play Store for mobile is the display of an app's original date of release on Play Store. Until now, Play Store only showed us the date when a certain app was last updated. But now, it also shows when that app was released on the Play Store.
You can see the date of release of an app by heading over to that app's listing on Play Store for mobile and then clicking on 'Read more' and scrolling all the way down. At the bottom, you will see a date under the 'Released on' label. That's the date when an app was first released on Play Store.
However, do keep in mind that like the top chart ranking, this feature is also available on Play Store for mobile and doesn't show up on web.
With that being said, it's also worth noting that not all the dates that you are shown under the 'Released on' label would be true. For example, Facebook's release date is shown as December 31, 1969. Well that's even before Mark Zuckerberg – Founder of Facebook – was born. But this is understandably some technical glitch, and we expect it to be fixed soon.
In related news, earlier this week we told you that Google is recommending 'Lite' apps to some users on the Play Store. Well, it now seems that this feature is being widely rolled out to more users as we can see those recommendations on our multiple devices (check first image above).
So, are you seeing any of the aforementioned features in Play Store on your smartphone? Which one do you like the most?