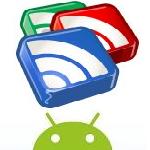 Google Reader for Android is now available to download from the Android Market. Personally I like and use Feed Squares to read my articles from Google reader until now. The mobile interface for Google reader was quite clumsy and failed to provide a seamless user-experience. But with this new official application from Google, for Google reader, the gaps are now filled. The application has all the features of its web version. To top it up, it has a lot of mobile specific features like:
Sync Multiple accounts

Sync your preferences from the web version

Android hard key Search

Navigate with volume buttons

Context sensitive menu
The interface is very minimalistic. Set up is very easy and it just takes 2-3 clicks to have your reader up and running. The title bar doubles as the progress bar. That's a pretty interesting visual pattern. But the application doesn't support zoom in this current version.